Marcas de Restauración
15/07/19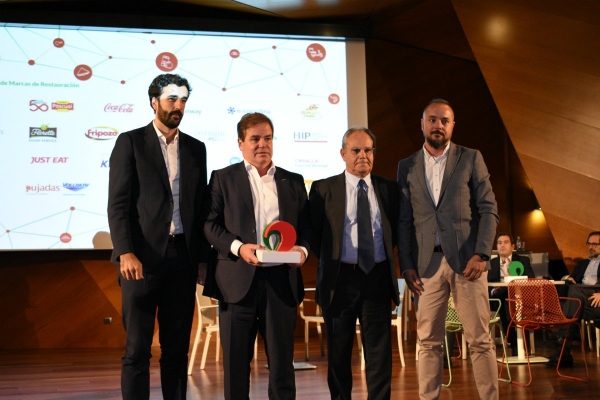 By all accounts, the food and drink industry across Europe continues to grow apace. Employing a combined 4.57m people across the region, the catering sector is the largest manufacturing industry in over half of the EU's 28 member states. What's more, the single market currently accounts for 90% of food and drink industry sales across Europe.
SATO recently attended an event held by the Marcas de Restauración, a business association that represents the foodservice and catering sector across Spain, currently contributing 0.6% of Spanish GDP and employing more than 150,000 people across the country. As sponsors, Mr. Javier Barandica, SATO Branch Manager for Spain presented the 'Espacio y Experiencia' Award.
During the event, Association President Mr Carlos Pérez Tenorio addressed the changing economic situation and trends in consumer behaviour. The sector is continuing to grow but increasing consumer agency has put internal processes under the microscope, placing a firmer focus on accountability and traceability.
Despite the continued expansion, the industry is not without challenges. Continual growth brings new difficulties to the table and it is not always a case of simply taking advantage of organic growth and reaping the benefits. For many manufacturers, suppliers and retailers across Europe, sector growth means increased administration and increasingly stringent health and safety requirements, alongside a greater responsibility to operate transparently.
These growing issues have brought about industry casualties in recent times. Several restaurant brands owned by high-profile chef Jamie Oliver have gone into administration, putting up to 1000 jobs at risk. Rather than one disastrous event, the chef's brands had been beset by numerous high-profile issues leading to slow decline. One of the problems that affected profitability and reputation was a major supply chain blockage, experienced when meat supplier Russell Hume failed food hygiene and storage checks.
Despite the investigation being concerned with the supplier only, the knock-on effect on reputation had real-term impacts on the brand equity for Jamie Oliver's brands, as customers questioned how thorough their checks and audits were for incoming ingredients and contributed to the myriad of problems that beleaguered the chain.
As foodservice businesses strive to keep pace with the traceability demands of the growing market, SATO has developed unique labelling solutions that make EU directive compliance simple and efficient for businesses of all sizes. No longer relying on paper logs and manual systems, SATO automates the management of food safety enabling restaurant, catering and hospitality management teams to drive operational efficiency.
To safeguard the sector, integrating a reliable traceability system has become imperative to the food and drink business. As a leader in food industry print solutions, SATO provides a wide range of RFID and barcode enabled technologies that deliver accurate and consistent monitoring and management throughout, enabling transparency through every food supply chain activity. From receipt of an ingredient delivery, to production and consumption, flexible labelling solutions are a pillar of the industry and having the hardware to deliver this has become a priority, particularly under stringent EU directives for food safety and transparency.
The award-winning SATO FX3-LX helps foodservice and catering businesses to leverage an effective track and trace process. It is a flexible, next-generation label printer that is perfectly suited to roles within the food and drink manufacturing supply chain due to its highly-customisable application technology and ability to adapt to its environment. The device's intuitive printing applications are easily accessed via a 7-inch TFT full colour touch screen, which offers users the familiar feel of using a smartphone or tablet. Users can choose from 14 pre-set training videos, which demonstrate media loading, parts replacement, option installation, cleaning and more to ensure that all users can use the machine efficiently, regardless of skill level. The unit also allows the reproduction of foodservice training videos, such as how to prepare specifics meals or drinks, reducing the need to additional training and ensuring consistent quality.
Ideally suited for providing accurate and efficient labelling solutions in fast-paced food manufacturing and catering processes, the FX3-LX is splash-proof with an anti-bacterial casing for simple cleaning and maintenance. What's more, the FX3-LX is impact compliant (IK06 under EN 62262 standards) and can be wall-mounted.
Innovative labelling solutions from SATO not only save time and costs but offer an extended value proposition to customers that leverage traceability and trust as a competitive advantage.
Latest Events
All Events

09 Nov 2021 - 10 Nov 2021
SATO will be present at The Restaurant & Takeaway...
All Events