Preventing HAIs: The SATO CT4-LX-HC Makes the Difference in Healthcare Settings
12/05/23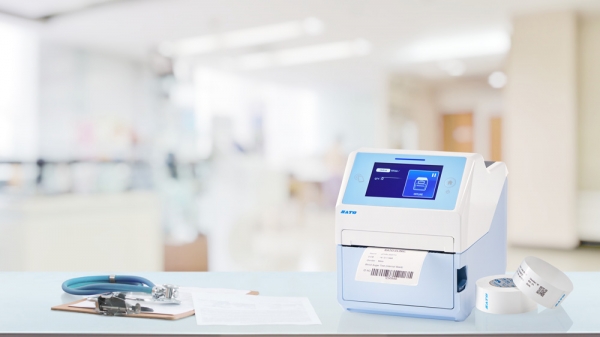 Healthcare-Associated Infections – a critical problem
After the COVID-19 pandemic and the years of lockdown and global chaos that came in its wake, addressing the cause of infection and eliminating all possible risks has never been more critical. And this applies all the more in a clinical setting.
With healthcare systems worldwide still under immense strain, hospitals and their medical staff seek solutions to keep patients safer, reduce the risk of infection and streamline their work. Top of mind for many are HAIs, so-called Healthcare-Associated Infections. And no wonder. The statistics underline why they remain such a problem.
Worrying figures underline the scale of this issue
The European Centre for Disease Prevention and Control (ECDC) recently estimated that 3.1-4.6 million people acquire a healthcare-associated infection (HAI) each year in acute care hospitals in EU countries, Iceland, Norway and the United Kingdom. In the USA, the Centers for Disease Control and Prevention (CDC) cite around 1 in 31 US patients hospitalised contracting an HAI, leading to an estimated 99,000 deaths annually. The World Health Organization (WHO) estimates that HAIs affect hundreds of millions of patients worldwide each year, resulting in millions of deaths at a severe financial cost to healthcare systems.
This cost and the urgent need to prevent such infections explain why the Hospital Acquired Infection Control Market size was valued at USD 29.13 Billion in 2021 and is projected to grow at a CAGR of 1.5% in the run-up to 2030, according to a recent analysis by Emergen Research.
The SATO CT4-LX-HC: A key weapon at the hospital front line
And SATO is at the forefront of the fight. It has a long and successful track record of innovative solutions for healthcare facilities and the new cutting-edge CT4-LX-HC printer is a prime example. Its advanced technology and specialised features can help healthcare providers save costs, improve patient outcomes and ultimately enhance patient care in healthcare settings.
An overview of how the CT4-LX-HC combats infection:
It starts with the antimicrobial casing itself. Rather like the sanitiser many of us got used to rubbing on our hands before entering shops, the surface is also perfect for disinfectant wipe-downs, to inhibit the growth of bacteria and viruses. This reduces the risk of contamination and transmission of pathogens to patients and staff.
In fact, all parts of the CT4-LX-HC are designed to be easily cleaned, to help healthcare professionals keep the hospital environment clean and sterile - critical to preventing HAI.
The CT4-LX-HC's color-coded labels and barcode technology also help hospital staff administer medication more accurately and efficiently, further reducing the risk of errors that can lead to HAI. Its ability to print rapidly and on demand can also ensure that labels are always readily available, reducing the risk of mislabelled or unlabelled products.
A label solution that redefines the healthcare printing experience
Labelling in healthcare is big billion-dollar business. Current forecasts suggest a CAGR of 23% in the period up to 2031. Smart labels are key to providing real-time patient monitoring (whereabouts, temperature, allergies etc.) and streamlining clinical supply chains and workflows.
The CT4-LX-HC can print labels at speeds of up to 8 inches per second, making it one of the fastest in its class. Its high-resolution printing capabilities allow for sharp and clear barcodes, text, and graphics, ensuring that labels are easy to read and scan accurately.
The CT4-LX-HC also has a large 4GB flash memory capacity, allowing it to store thousands of label formats and images for on-demand printing. This feature reduces the need for staff to spend time searching for and loading label formats, which can significantly increase efficiency and reduce the risk of errors.
Conclusion: A gold-standard clinical solution for hospitals
So overall, the SATO CT4-LX-HC is a versatile labelling solution offering healthcare providers wide-ranging benefits. Over and above preventing HAIs, it also streamlines operations in multiple ways. One key feature is its AEP-capability, making it ideal choice for even the busiest hospital environments. The printer screen customization application is particularly useful, displaying all relevant information on screen, including IP address settings and details of all consumables used.
With its high-resolution printing and large memory capacity, the SATO CT4-LX-HC also supports patient monitoring and clinical supply chain management. It was also designed with hygiene in mind, as one of very few printers to combine an antimicrobial casing with scope for disinfectant wipe-downs. The color-coded label output makes it easy to use and reinforces its role as a key tool in the fight against infection. All of which makes the SATO CT4-LX-HC an excellent choice for healthcare providers looking to improve efficiency and reduce HAI risk.
As the healthcare industry continues to evolve and adapt to new challenges, SATO remains committed to providing cutting-edge solutions that meet the needs of healthcare professionals and patients alike. The CT4-LX-HC is a prime example, uniting unrivalled performance, efficiency, and versatility in a single device.
Whether you're a hospital administrator looking to improve patient outcomes, a clinician seeking to reduce the risk of HAIs, or a supply chain manager striving for greater efficiency and accuracy, the CT4-LX-HC is a label printer that can help you achieve your goals.
Click here for more details of the CT4-LX-HC
Latest Events
All Events

29 Sep 2023
In a world where nothing is certain anymore, data is our only...
All Events