SATO: solving transport and logistics productivity challenges
Whether transporting food, pharmaceuticals or chemicals through a manufacturing and distribution supply chain, every stage between receipt of incoming goods to delivery to the final end user and returns, offers operators an opportunity for efficiency improvement and business optimisation.
From track and trace requirements, redirection and cross-docking labelling to intelligent inventory and warehousing control solutions, SATO works with customers to understand their unique storage and shipping challenges to design comprehensive, reliable solutions for every distribution scenario.
SATO understands that having real-time visibility of goods, employees and assets is critical. Specifically designed for challenging warehousing and distribution environments - from backroom storage operations right up to international distribution hubs - SATO barcode labels and RFID tags enable automatic sensors to sort, direct and track post, parcels, pallets, cartons, canisters and Intermediate Bulk Containers through the transportation and logistics process without human intervention. With easy to use thermal printers and auto-identification barcode labelling and RFID solutions, SATO mobile, desktop and industrial print technology can scan, print and deliver information in any location, high speed and on-demand.
SATO: solving transport and logistics productivity challenges
Logistics Industry Map
Click to download:

See Transport & Logistics Challenges
Featured Innovation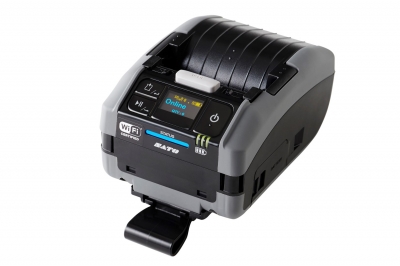 Print labels or receipts on demand in any location
Application story
With a wealth of experience in the logistics environment, we understand the challenges faced by operators...

Can't find what you're looking for?
Contact us