SATO is a leader in the design, development and production of a range of label solutions. Offering a portfolio of plain and full colour label types to meet a wide range of business needs, SATO offers labels with bespoke sizes, adhesives and substrates to meet a variety of print requirements.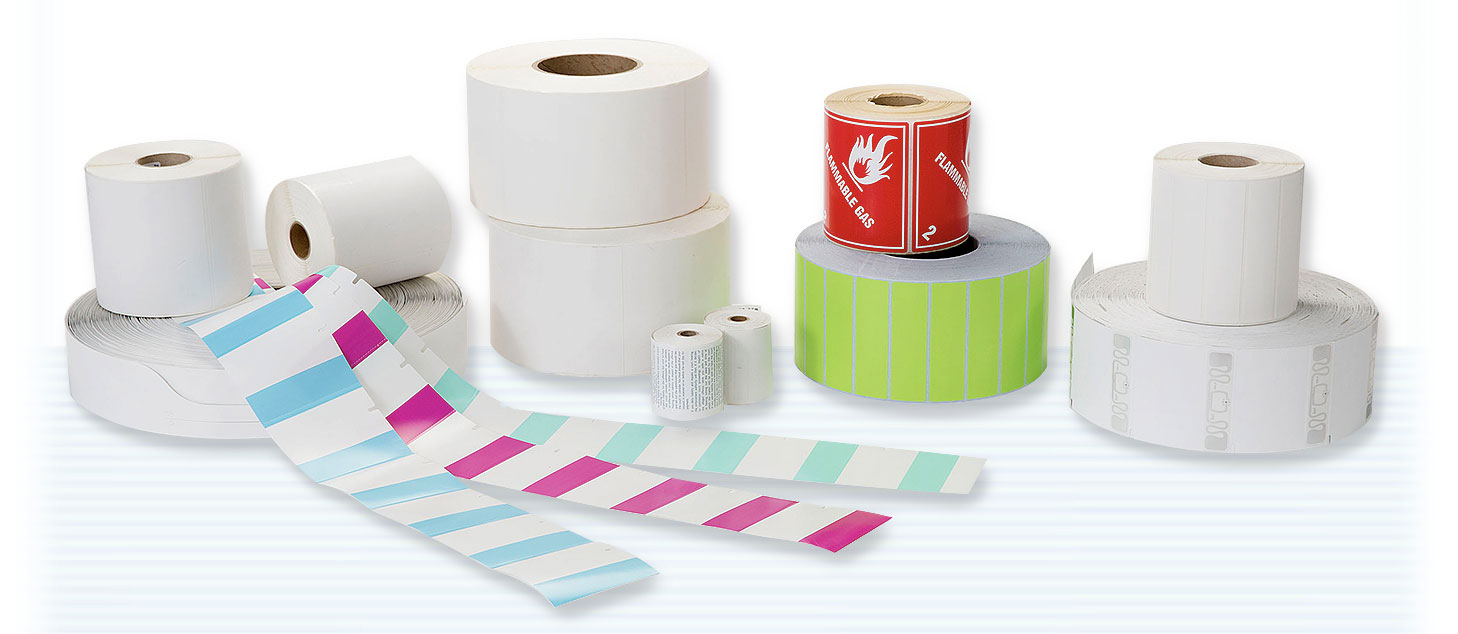 SATO labels are produced in-house using the highest quality materials to ensure optimum performance and expertise in label design guarantees excellent quality and consistency.
SATO offers Direct Thermal Labels, Thermal Transfer Labels & Synthetic Film Labels that are specially manufactured to complement the features of SATO printers, as well as a portfolio of self-adhesive labels for a wide range of market applications.
All customers can rest assured that our production facilities are suitably placed to allow for optimum delivery throughout the UK and Europe in light of Brexit.
Read more…
To ensure quality service and minimise downtime, SATO regional offices always carry ready stock for the most commonly used labels in the market.
Download Labels & Ribbons Datasheet
Standard Tags
As well as a wide range of labels, SATO supplies customised and pre-printed single or double-sided tags to its customers for a broad spectrum of applications.
Example SATO label applications
Healthcare
For the Healthcare sector, SATO offers specialist cryogenic labels which can be directly immersed in liquid nitrogen at -196 °C without risk of delamination. Printed by heat transfer or laser, batch details and barcode details can be accurately captured, even for small bottles and test tubes. Their excellent curved surface adhesion provides secure fixation for reliable identification of blood, DNA, tissue and stem cells.
Labels for pharmaceutical containers with diameters of less than 15 mm (on test tubes, vials, syringes, ampoules, blown-fill-and-seal (BFS) containers…)
Transport & Logistics
For the transport and logistics sector, SATO offers multi size labels suitable for application to delivery forms, packages or on to internal files to route, track and trace objects throughout the supply chain.
Retail
In the busy retail environment, attractive stand out labels can drive sales. SATO produces a range of eye-catching labels in a wide variety of colours including fluorescent labels for visible market downs. These are available for both printers and hand labellers.
For apparel merchandising, tear resistant materials are offered to reduce shrinkage and additional labour required by lost and stolen tags.
For food retail outlets, thermal transparent labels make the printing of labels at the point of sale easy with a DT printer or a weigh scale. What's more, with the demands of modern food legislation requirements, the label can be very long and hide the product, depressing sales. With a transparent label, SATO can provide all the required information and show off the product for great shelf appeal.
Restaurants
SATO offers a range of labels suitable for chilled and frozen applications. Designed with adhesives suitable for low humidity in chilled or frozen environments down to -21°C
For quick microwave cooking, SATO offers microwave compatible labels that withstand up to 203'F (95'C) temperatures for long periods
Dissolvable labels are available that dissolve completely in under a minute in a dishwasher or under hot running water, with no residue, avoiding contamination issues and are completely safe for drainage systems
Food Industry
SATO offers a range of labels for the food industry that are designed BPA free for direct food contact application, as well as a labels manufactured from recycled materials for environmentally sensitive applications and products.
Automotive
Leaders in automotive print and labelling solutions, SATO offers a range of specially designed tire labels with reinforced adhesive. Labels applied to rubber substrates need to grip uneven tread, while providing vital information about the product including the brand, type, dimensions, and item barcode. SATO designs label solutions to meet a variety of automotive market needs.
Manufacturing
With a wide variety of harsh and demanding environments in the manufacturing sector, label needs can vary. SATO understands this and offers a comprehensive portfolio of specialist label designs from long-lasting outdoor labels suitable for dusty environments through to GHS compliant labels suitable for the oil and industrial chemicals sectors.
To request a specific label format for your business, please use our online label enquiry form

Can't find what you're looking for?
Contact us