New SATO Website Goes Live
03/06/19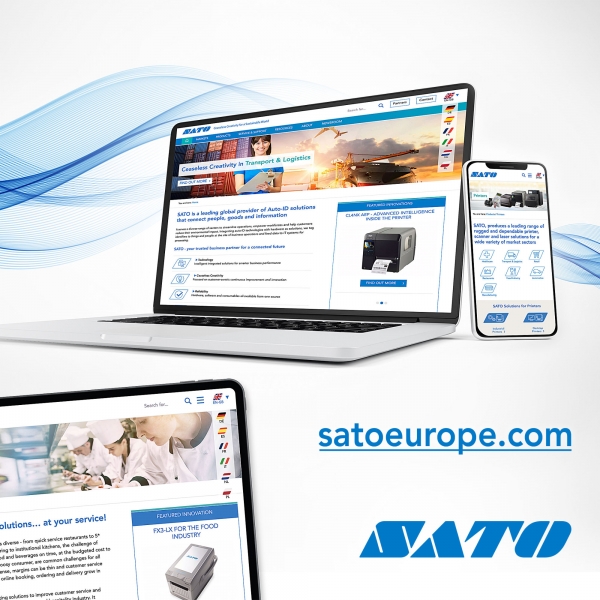 SATO Europe, a market leader in the development of auto-identification and labelling solutions, has launched a new website to showcase its extensive market knowledge, product offering and technical expertise in a user-friendly format.
The new platform presents a host of new features and updates built in to its contemporary interface. Pivotal to the redesign is the change in content structure; users will now find information led by industry rather than by product.
As a leader in label devices, Auto-ID solutions, RFID technology and accompanying software, the new layout eases navigation, allowing for simple and accurate browsing of SATO solutions, as well as access to white papers and tech tips.
In a departure from the legacy format of individual region subsites, the new web platform offers adaptive language changes on a singular platform, streamlining the user experience and better reflecting the unified approach SATO takes to an international market.
The site also showcases responsive functionality, enabling smooth transition between desktop and mobile browsing, creating practicality on a wide variety of screen formats.
Noura Moussa, Head of Marketing at SATO Europe commented: "We have put a great deal of thought into how we present SATO solutions and expertise to our customers via our website. Both new and existing users will find the platform easy to navigate, with the revised structure helping us seamlessly bring our vast market knowledge to every stage of the customer journey. Whether looking for innovative print and labelling solutions, service and support information or resources for existing hardware, it can be found quickly and easily on the new website."
The new SATO site will also receive additional features during the coming months, including a business partner portal area for added convenience.
To experience the changes, visit www.SATOEurope.com