SATO Europe launches RAIN RFID asset management solution ASETRA to boost operational efficiency
09/11/22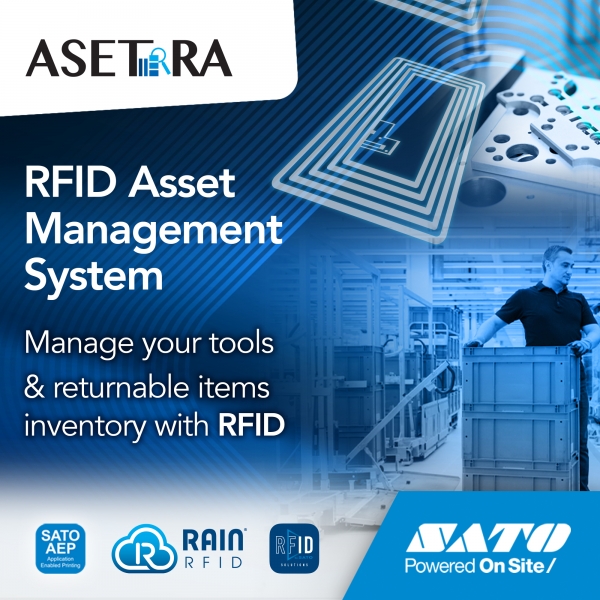 Global pioneer in next-generation auto-ID and labelling solutions, SATO launched its RAIN RFID1-based asset management solution ASETRA in Europe. The easy to deploy system comprising RFID tags, RFID printers and desktop reader/writers accurately and easily tracks and manages assets through the supply chain.
With higher demand for RFID asset management and tool tracking for returnable goods from healthcare to manufacturing and beyond, there is now a growing need for track and trace solutions to deliver on greater efficiency and accuracy, while reducing system development costs.
The ASETRA software installed in the handheld readers can switch between RFID and barcode and 2D codes for flexibility within existing workflows.
Eckhard Wernich, Solutions Product Manager at SATO Europe, commented: "Recent data has shown that up to 14% of retailers manually count their stock using pen and paper2. The ASETRA solution from SATO is designed to eliminate the need to count inventory by hand, such as office supplies in a warehouse or mission critical equipment in healthcare, saving employees significant time and reducing the window of human error."
The solution, which enables operators to stock-take, track and search all inventory assets in one system, has been created to meet current supply chain challenges with cost-saving techniques.
"Businesses can install ASETRA easily without technical knowledge by automatically assigning RFID tags to existing asset numbers," continued Eckhard. "It also pairs with a range of readers that work with every type of asset and works with existing asset management databases by using CSV file format for ease of compatibility.
"When combined with the SATO CLNX Plus or CT4-LX label printers and SATO AEP (Application Enabled Printing), it unlocks added value by visualising and encoding the correct identity on RFID tags. AEP, for instance, enables operators to view an on-screen message to install the correct label roll before it prints an asset tag or location label. Not only does this eliminate risk of printing an incorrect tag, but it also reduces unnecessary wasted costs due to human error."
In addition to the benefits ASETRA brings for faster stocktaking, it also features multiple worksite authority. Designed specifically for businesses that want to assign administration permissions to staff members that work in maintenance as a vehicle technician or in remote office locations, rather than at the company's main location, it enables users to set viewing and operation authority for each worksite, increasing operational efficiency.
"At SATO, we continuously look for ways in which we can improve our services to be on the front foot of customer-centric innovation. Solutions that can help save time and reduce costs are a vital lifeline to businesses with today's economic outlook. For businesses that want to take control of their assets, the ASETRA solution is that digital bridge to faster, accurate and efficient stocktaking and loan-out tracking operations," concluded Eckhard.
Discover more about the ASETRA solution in this video https://youtu.be/tLc3yEPKoTE
For more information on RFID-enabled solutions from SATO, please visit satoeurope.com
Reference:
1. RAIN, derived from "RAdio frequency IdentificatioN" uses the GS1 UHF Gen2 protocol which ISO/IEC has standardized as 18000-63.
2. Shopify, 2021.