SATO Introduces S84/86NX Smart Print Engines for Labeling Automation
24/01/23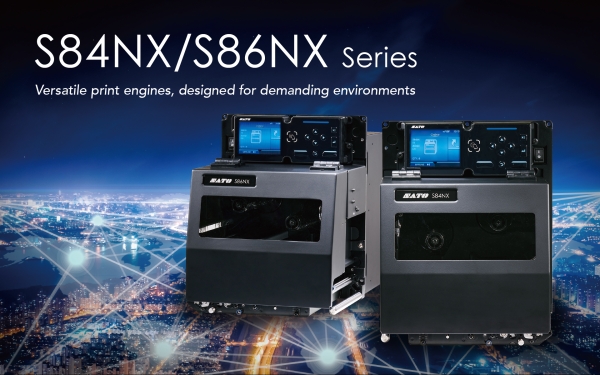 SATO, a global pioneer in auto-ID and labeling solutions, launched the S84NX (4-inch) and S86NX (6-inch) line of smart print engines in Europe.
As the name suggests, print engines are the "engine" of print and apply labeling automation systems. Print engines are commonly used in logistics centers and factories to print variable information onto the label and feed it to an applicator to attach onto individual items.
The versatile S84/86NX is designed for automation — both in terms of supply chain and on-site usability and productivity, which are key factors for high volume logistics providers who regularly employ and train new operators. An RFID option1 allows users to apply smart labels to cartons and pallet loads for streamlining of stocktaking operations downstream. Smart features include intelligence in the printer powered by AEP (Application Enabled Printing) which makes printing without a PC possible.
AEP allows the user to install customized apps on the print engine and print based on keyboard or scanner input or make a local or cloud database search. Native apps allow warehouse operators to directly connect to weigh scales to automate weight input. Another app allows users to directly print from a programmable logic controller (PLC)2 eliminating the need to reprogram the PLC when creating or modifying layouts. This can cut time spent by 50 percent. AEP also enables the customization of the external I/O interface3, which is an important interface for the integration with the print and apply labelling system.
Reliability is also a key concern with labeling automation systems. The S84/86NX is designed for demanding, industrial environments, with greater resistance to water and solvents than previous SATO print engines. This is a must in factories and warehouses where extreme temperatures and wet, dry and dusty conditions can be the norm 4. Features like a sensor to tell when the cover is open, and stronger hinges and nip rollers add durability to extend the product's lifespan in the harsh, 24/7 environment of ecommerce fulfillment. SATO's preventative maintenance service SOS also allows users to remotely monitor the status of their print engines on a single dashboard to eliminate downtime and keep operations running.
Trends driving labeling automation include the need to have workers performing important tasks that machines cannot. High volume labeling is one task better suited for machines. This is especially the case in high-volume logistics centers that need to label thousands of items per day. Labeling serialization of industry specific labels in food, health care and more is also driving demand for print and apply labeling systems.
When asked, nearly 60 percent of warehouse and distribution center managers expect to upgrade their equipment in the next two to three years 5, suggesting that now is the time many hope to invest in automation.
"Reliability and ease of use are critical to high volume labeling operations which is why they're right at the core of our product concept," said Jiro Miura, Head of Automated Tagging Solutions at SATO Corporation. "At SATO, we always take pains to listen to the on-site needs of users and go beyond to excite our customers."
For pricing and more, please contact us.
UHF RFID kit is available for the 4-inch S84NX only
The PLC is a computer specially designed to operate reliably under harsh industrial environments and used to automate industrial processes such as a manufacturing plant's assembly line.
Input-Output interface. Used for transfer of information between internal storage devices i.e. memory and external peripheral devices
2022 "Annual Warehouse and Distribution Center (DC) Equipment Survey" - Peerless Research Group (PRG)