SATO Launches the CT4-LX-HC: A Smart Label Printer for Healthcare
25/04/23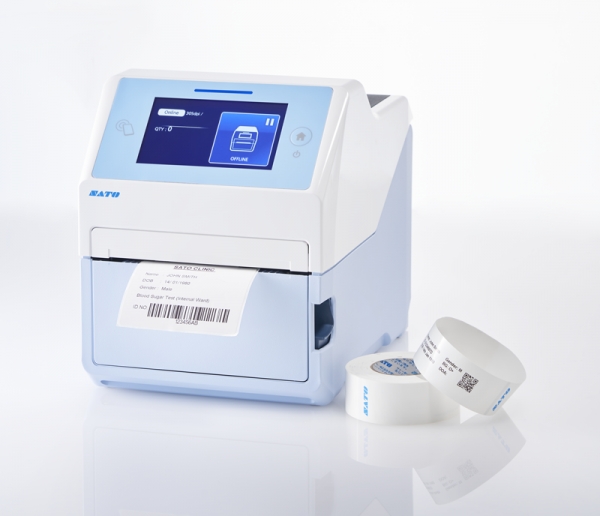 SATO, a global leader in barcode printing, labelling and auto-ID solutions, is proud to announce the launch of the CT4-LX-HC, a dedicated smart and intuitive 4" label printer for the healthcare sector. The printer was launched today in Europe.
As healthcare services increasingly embrace the digital revolution, accurate and user-friendly solutions are key to keeping patient care the top priority. Such solutions must also deliver and be future-proof, to help hospitals, pharmacies and labs meet the needs of a growing and aging population.
The CT4-LX-HC is an exceptionally versatile desktop printer, designed to achieve next-level patient and consumer care. It also features an antimicrobial casing that can be wiped down with disinfectant wipes, to minimise the risk of infections and recontamination in a clinical setting. It expedites patient workflows for accurate pharmacy labelling with its one-touch media profile recall function and fast print speeds of up to 8 inches per second. And even at this speed, the onboard intelligence from SATO AEP (Application-Enabled Printing), which autonomously verifies labels against the printer's database before printing, ensures ultra-accurate end results.
Creating a user-friendly printer was top of mind for SATO and the 4.3-inch colour touchscreen is a good example. As befits the current YouTube era, it comes with onboard guidance videos as standard, all of which are easily accessible in the event of an error, for easy troubleshooting and minimal downtime.
It's also as flexible and connectible as they come. Whatever your peripherals, multiple interfaces make it a breeze to connect to wide-ranging devices via LAN, USB, Bluetooth, NFC, Real- Time communication (RTC) and RS-232.
The CT4-LX-HC also has a smaller installation footprint than other 4-inch models on the market, thanks to compact dimensions and recessed rear ports. Its top cover opens extra wide to facilitate label and ribbon loading, while the rear cover makes loading of other media (e.g. USB flash drives) equally effortless. Adding or replacing devices couldn't be any easier. Sustainability and convenience are also evident in key design features.
The label waste-prevention function lets the user print from the first label onwards, for an eco-friendlier printing solution. Meanwhile, optional accessories like a guillotine cutter and a real-time clock give the unit even greater flexibility. And the CT4-LX-HC comes with 31 display languages and 47 print languages, as well as five
onboard printer emulations, making it suitable for global implementation.
The CT4-LX-HC is a dependable, user-friendly and cost-effective healthcare labelling solution. Its onboard printing intelligence and SATO Application-Enabled Printing (AEP) feature help businesses reduce costs and downtime while stabilising operations. The printer screen customisation application is particularly useful, displaying all relevant information on screen, including IP address settings and details of all consumables used. The printer also features proactive and preventative maintenance via SATO Online Services (SOS) to minimise downtime.

Finally, the CT4-LX-HC can print PDF data generated via other systems directly, reducing errors, time and resources with PDF Direct Printing. With SOTI Connect, businesses can reduce the cost, complexity and downtime of business-critical mobile and IoT operations. In conclusion, SATO's CT4-LX-HC is a versatile and innovative healthcare label printer designed to meet the growing and evolving needs of healthcare providers. With its antimicrobial casing, onboard intelligence and user-friendly interface, the CT4-LX-HC ensures accurate and efficient label printing while minimising the risk of infection and downtime.Its compact design, sustainability features and scope for global implementation make it a cost-effective and future-proof solution for the healthcare industry.

SATO's commitment to proactive and preventative maintenance and advanced connectivity features like SOTI Connect and PDF Direct Printing further enhance the CT4-LX-HC's value proposition, making it an indispensable tool for any healthcare facility.
For more information on the CT4-LX-HC, please contact your nearest SATO partner.
• *Bluetooth is a trademark of Bluetooth SIG, Inc.
• *All company names and product names listed here are properties and trademarks or registered trademarks of their
respective companies.