SATO LAUNCHES WEB AEP TO DELIVER FAST, HIGHLY SCALABLE WEB APPLICATIONS FOR ITS INTELLIGENT LABEL PRINTERS
22/06/21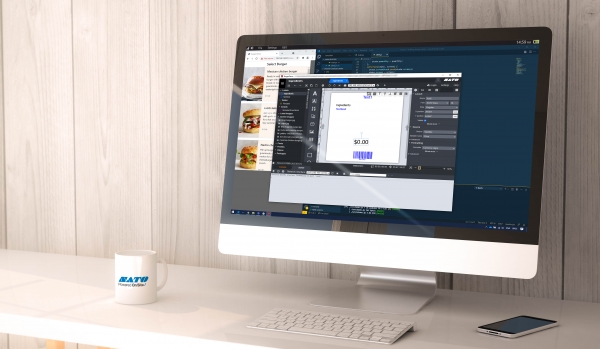 Global Auto-ID solutions provider, SATO, has announced the launch of its intelligent Web Application Enabled Printing ('Web AEP') solution to create fast, dynamic and agile web applications that simplify complex printer operations.
Web AEP, which is currently available for the SATO FX3-LX and CT4-LX touchscreen label printers, is an expansion to the powerful AEP solution that enabled independent software vendors ('ISVs') to customise printer operations for any industry, simplifying the labelling process. Now, ISVs can use Web AEP to do everything they initially could with AEP, while using common code languages like JavaScript, HTML5 and CSS for faster application development.
Mats Hedberg, Head of AEP development at SATO Techno Lab Europe AB, said: "We are delighted to take AEP to the next level with the launch of Web AEP. As a highly scalable solution that can be created by web developers at speed, Web AEP is a natural evolution to AEP. For example, ISVs can now convert existing web applications to run on the SATO FX3-LX or CT4-LX intelligent label printers and develop local applications with common web technologies. Or they can run cloud web applications to initiate bug fixes with only a single deployment of the server application, eliminating the need to upgrade every printer.
"ISVs that want to deliver a time-saving, easy-to-use and cloud-connected labelling approach to simplify business operations should look no further than Web AEP. From point and click customer applications with touchscreen printer technology to easy database integration, Web AEP offers unparalleled accuracy to reduce costs and improve operational efficiency."
Suitable for a range of markets, including the food industry, manufacturing, healthcare, retail, restaurants and more, Web AEP delivers the flexibility ISVs require to create tailor-made applications with a dynamic graphically engineered backend process, alongside the preferred JavaScript frontend framework such as jQuery, React or Vue.js.
"At SATO, our ethos is to inspire change and promote customer centric innovation," added Hedberg. "Web AEP is an example of our ceaseless creativity. Our customers want to provide a unique solution to their end users with a multi-functional, all-in-one device. Web AEP goes beyond that need, enabling ISVs to build faster and smarter web applications to meet the demands of today, tomorrow and the future."
Available now, Web AEP is supported on the intuitive 3-inch FX3-LX label printer and the next generation 4-inch CT4-LX smart desktop printer. To find out more, please visit satoeurope.com.