SATO Receives Accolades at Label Industry Global Awards 2018
30/10/18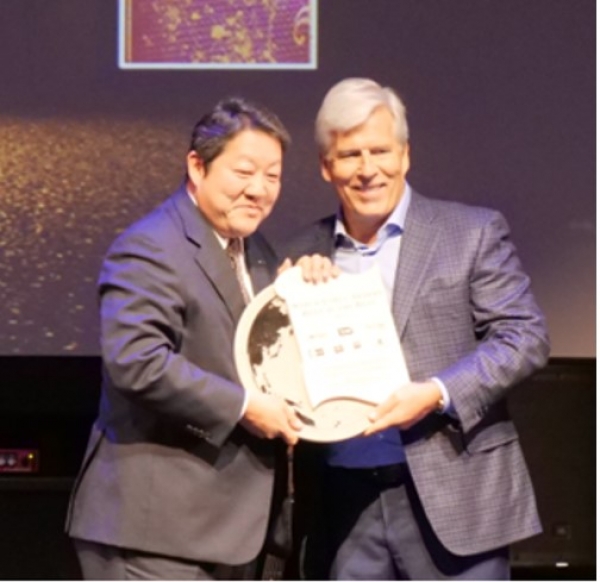 Second recognition for printing excellence in three years
Tokyo, October 30, 2018 – SATO (TOKYO:6287), a leading global provider of auto-ID solutions that empower workforces and streamline operations, received the Best of the Best Award for its Daimyo Futomaki sushi roll label at the Label Industry Global Awards 2018 held at Labelexpo Americas 2018.
Best of the Best Awards are presented to winners in five categories—Combination Printing, Letterpress Printing, Offset Litho Printing, Flexographic Printing and Digital Printing. SATO was honoured in the letterpress colour process category.
SATO's winning label was printed using a vivid red ink and a highly concentrated black ink instead of a combination of standard process inks, thereby bringing to life the powerful colours of the label design which expresses the freshness of the sushi roll.
In order to create halftone dots to reproduce the highest possible colour quality, SATO worked meticulously to ensure a printing pressure conducive to producing a uniform and stable output. The result was a highly accurate finish that was suited to the product.
SATO Group has established a system to consistently and comprehensively cover all processes from the development of label substrates, production of base paper, design proposal, printing and processing.
About SATO
SATO (TOKYO:6287) strives to be the most trusted Auto-ID solution provider worldwide, bridging the last inch of the last mile for customers in manufacturing, logistics, retail, food & beverage and healthcare through cutting edge tagging solutions. With a 5,000+ strong global workforce and 78 years of expertise, SATO engineers value-added solutions that boost accuracy, sustainability, labour and resource savings, provide reassurance and enable emotional connections. For the fiscal year ending March 31, 2018, it reported revenues of JPY 113,383 million (USD 1.02 billion*). More information about SATO can be found at www.satoworldwide.com, linkedin and twitter.
*Conversion is based on an average exchange rate of 1 US Dollar = 110.85 Japanese Yen