SATO Releases Mobile App for Printer Configuration and Troubleshooting
26/10/23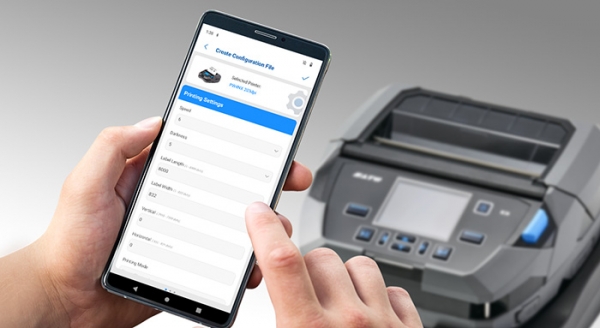 Mobile All-In-One-Tool allows configuration via NFC, Wi-Fi and Bluetooth for fast and easy label printer deployments, instant troubleshooting
SATO Holdings Corporation (TOKYO: 6287), a global pioneer in auto-ID and labeling solutions, released a mobile app1 for its All-In-One Tool today. The utility is unique in the label printing industry as a tool for configuration of printers2 via NFC, Wi-Fi and Bluetooth communication with smart devices. It also enables troubleshooting with test printing and cloning of configurations via Wi-Fi and Bluetooth.
Configuring and troubleshooting individual printers manually is a time-consuming process when done with a PC or by keying in values on an individual printer LCD screen or touchpad. The pairing process with Bluetooth or configuring the IP address to a mobile app can also be troublesome. With NFC, users can do configuration and troubleshooting3 of SATO printers instantly with a simple tap of the mobile device. The updated utility allows SATO users to configure printers to established settings and policies, run test prints and add fonts and apps4, all via contactless protocols.
The new app streamlines initial setup of printers. By using mobile with NFC, time required for printer configuration may be reduced by up to 33 percent5 compared to manual set up. There are also safety concerns on the factory floor or other workplaces where label printers may be placed with limited space. If there is no area to securely operate a PC, it may fall down. This can be avoided with mobile device setup, which provides more freedom of movement.
"With our new Mobile All-In-One-Tool, customers now have the option to skip the physical staging process and its associated labor and costs," said Kenji Ushiki, head of R&D at SATO Corporation and executive officer at SATO Holdings Corporation. "This is one way we help customers, partners and SATO service teams work smarter and more efficiently."
The app currently supports English and simplified Chinese and is compatible with all SATO printers with NFC interfaces6. Japanese support will be available within 2023.
Only supports Android at time of release. Support for iOS planned within 2023.
Existing competitor products support handover (pairing) via NFC communication but not configuration via smart devices (SATO survey)
Features available with NFC: Applying configurations, test printing
Apps for AEP (Application Enabled Printing), SATO's intelligence inside the printer platform
Configuration operation for common settings on a new printer (SATO survey)
SATO PW2/4NX, CL4/6NX, CL4/6NX Plus, FX3-LX, CT4-LX, CT4-LX-HC, S84/86NX
・Wi-Fi is a registered trademark of Wi-Fi Alliance
・Bluetooth is a trademark of Bluetooth SIG, Inc.
・Android is a trademark of Google LLC.
・IOS is a trademark or registered trademark of Cisco Systems, Inc. in the United States and certain other countries and is used under license.
・All company names and product names on are properties and trademarks or registered trademarks of their respective companies.