SATO Unveils PC-less Label Printing Solutions with Mitsubishi Electric MELSEC Controllers
10/11/23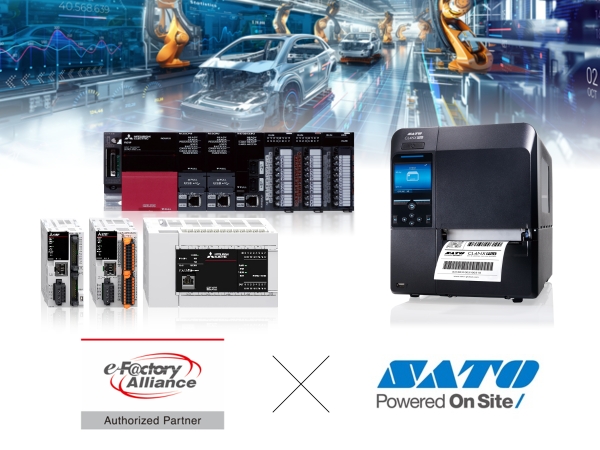 Manufacturers can more easily trigger label printing in-line to further automate processes
TOKYO, November 10, 2023 - SATO Corporation, a global pioneer in auto-ID and labeling solutions,with Mitsubishi Electric Corporation, a global leader in the field of factory automation systems, unveiled sample programs for Mitsubishi Electric MELSEC sequencers today to further automate label printing by sending commands to SATO label printers at designated events in the production line.
Sequencers — also known as programmable logic controllers (PLC) — are used in sequential control systems in the factory to reduce costs by automating specific industrial processes, machine functions, or entire production lines where sophisticated and demanding processes are required. They are often used in the production of electronics, automobiles, chemicals, pharmaceuticals, foods and beverages to keep high-volume assembly lines flowing.
In order to reduce programming time, Mitsubishi Electric has also prepared a customizable sample code which enables the sequencers to communicate with SATO printers in typical factory labeling and RFID tagging scenarios, such as processing, assembly, inspection and shipping.
By enabling MELSEC sequencers with SATO barcode printer language (SBPL) commands, processes requiring labeling are more easily automated in various stages of production. Mitsubishi Electric has developed sample programs in English and Chinese, in addition to Japanese. The sample script can be customized for standard processes to greatly reduce the time required for programming.
In recent years, there has been a growing need for PC-less workflows in the factory. Contributing factors include the need to reduce manual input and the associated risk of errors. Other drivers include lack of space, IT security concerns and stability of operations. Without PCs in the mix, software license management is no longer a concern, which further automates the IT management aspect of production.
Meanwhile, manufacturers are constantly looking for ways to streamline and visualize operations. Adding industrial automation equipment can enable 24/7 operations with increased accuracy and improved scalability, making it easier for manufacturers to adapt to changes in production volume or expand operations when necessary.
"Together with Mitsubishi Electric, we want to help automate every process related to production of parts and finished products in the factory," commented Hayato Shindo, executive officer overseeing global business at SATO Holdings Corporation. "Manufacturers can turn to SATO for connected and flexible solutions that can be deployed with speed."
The sample SBPL script for MELSEC controllers can be found in English, Chinese and Japanese here:
MELSEC iQ-R sample program for SATO CL4NX Plus

About Mitsubishi Electric Corporation
With more than 100 years of experience in providing reliable, high-quality products, Mitsubishi Electric Corporation (TOKYO: 6503) is a recognized world leader in the manufacture, marketing and sales of electrical and electronic equipment used in information processing and communications, space development and satellite communications, consumer electronics, industrial technology, energy, transportation and building equipment.
Mitsubishi Electric enriches society with technology in the spirit of its "Changes for the Better." The company recorded a revenue of 5,003.6 billion yen (U.S.$ 37.3 billion*) in the fiscal year ended March 31, 2023. For more information, please visit www.MitsubishiElectric.com
*U.S. dollar amounts are translated from yen at the rate of ¥134=U.S.$1, the approximate rate on the Tokyo Foreign Exchange Market on March 31, 2023
About SATO
SATO (TOKYO:6287) is a global provider of automatic identification and data collection solutions for leading companies throughout the supply chain. SATO helps tag every 'thing' to turn it into big data — making it knowable in real time. An industry pioneer focused on the on-site needs of customers, SATO engineers hardware, software and consumables and integrates them with third party offerings to streamline workflows and capture and visualize data for a connected world of productivity, safety, reassurance and sustainability. Founded in 1940, SATO has a presence in 26 countries with a workforce of over 5,600. For the fiscal year ended March 31, 2023, it reported revenues of 142,824 million yen ($1.05 billion*).
More information about SATO can be found at www.sato-global.com
*Based on an average exchange rate of 1 USD = 135.49 JPY