SATO Unveils Turnkey NFC/HF RFID Encoding Solution with NiceLabel
27/04/23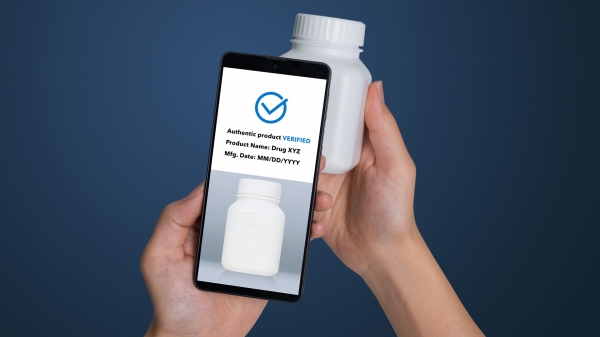 Deploy HF RFID and NFC easier than ever with SATO and Loftware
SATO Holdings Corporation (TOKYO: 6287), a global pioneer in auto-ID and labelling solutions, announced that its 4-inch CT4-LX desktop and CL4NX Plus industrial RFID printers can now natively encode and print 13.56MHz high frequency (hereafter, HF) and near-field communication (hereafter, NFC) stickers and tags1 using HF and NFC data exchange format (NDEF2) commands with NiceLabel, the world standard in label design software.
Image description: NFC tagged medicines can be checked on the fly with a simple tap of a smartphone
This opens up innovative applications for inventory control, traceability, brand protection and improved consumer experience in clothing, manufacturing and healthcare, specifically in pharma, electronics and automotive.
Reports indicate that counterfeit drugs account for 10 percent of the global medicine market, and up to 30 percent in some countries. Every year 267,000 deaths are linked to falsified malarial medicines alone. "No prescription" websites pose a serious global health risk worldwide. The National Association of Boards of Pharmacy (NABP) found more than 11,000 websites operating illegally with 9 in 10 waiving prescription requirements and with the pandemic, even more substandard drugs are finding their way into the market. Implemented smartly, NFC can give consumers a way to see the entire journey of their medicines from factory to pharmacy.
For automotive parts and electronic component manufacturers, NFC is optimal for counterfeit protection. Operators across the supply chain can confirm authenticity of individually tagged parts with smart devices.
As they can withstand liquid, NFC tags are also a great way to manage tools and equipment stored outdoors, like construction sites. An operator can learn about the status of any item using a smartphone. NFC is also used to check the safety and performance of critical infrastructure like electric meters.
For clothing, black and grey market counterfeiting creates a huge negative financial impact for clothing and footwear brand owners that can negatively affect brand image. Authentication systems using embedded NFC tags accessible by smartphones can enable a user-first experience, directing consumers to information online at meaningful junctures.
SATO printers already support a number of transformative NFC / HF RFID applications:
A service that allows users to check the age and status of their climbing gear with a smart device
Embedded tags in luxury consumer smartphone accessory to eliminate fakes sold around the world
HF tagging of components for suppliers of leading semiconductor manufacturer to handle the sharp increase in demand amid pandemic-induced disruptions
"We are delighted to collaborate with SATO to support businesses embracing RFID smart labelling," said Paul Vogt, Loftware Vice President of Partner Strategies. "Customers across many industries are turning to RFID for end-to-end traceability and streamlining and SATO is at the forefront of enabling them. With Loftware NiceLabel and SATO RFID printers, businesses can now encode a wide range of RFID tags and it is easier than ever to deploy RFID into existing workflows."
"SATO is a pioneer in the printing and encoding of RFID tags and one of the few printer manufacturers to offer NFC and HF encoding," said Hayato Shindo, executive officer overseeing global business at SATO Holdings Corporation. "We aim to give customers every option available for tagging and data capture by intelligently integrating solutions to streamline on-site flows."
For more, contact your local SATO representative.
HF RFID is the most widely used RFID technology with common applications of access control, document tracking and ticketing due to its shorter read ranges up to 30 cm. There are two types: 13.56 MHz HF RFID passive ISO 15693 tags and ISO 14443-A (NFC) tags. NFC is a set of communication protocols that enables communication between two electronic devices over distances of 4 cm or less.
The NFC Data Exchange Format is a lightweight format for transferring data across an NFC connection. NFC NDEF offers a simple format to be used for all NFC communication including both active and passive NFC devices.
・All company names and product names here are properties and trademarks or registered trademarks of their respective companies.
About SATO
SATO (TOKYO:6287) is a global auto-ID solutions provider for leading companies in manufacturing, logistics, retail, food & beverage and health care. SATO tags every 'thing', making them knowable in real time for a connected world of productivity, safety, reassurance and sustainability. An industry pioneer with a focus that is grounded on site, SATO engineers hardware and integrates solutions to streamline the entire supply chain and capture and visualize data from factory to consumer. SATO has 82 years of expertise and a presence in 26 countries with a 5,600+ workforce. For the fiscal year ended March 31, 2022, it reported revenues of 124,783 million yen ($1.11 billion*).
More information about SATO can be found at www.satoeurope.com
*Based on an average exchange rate of 1 USD = 112.39 JPY