SOTI SYNC 2023: A Recap of Innovation and Collaboration
03/10/23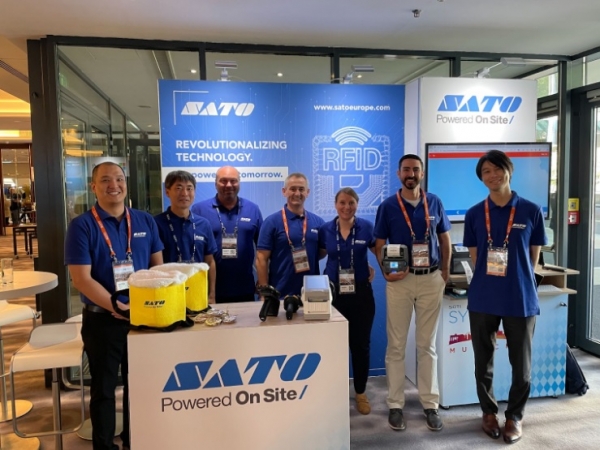 SATO Europe was honoured to be a Platinum Sponsor at SOTI SYNC 2023, held from September 26 to 28 in Munich, Germany. It marked the return of SOTI's annual partner and customer conference and it was a momentous event for everyone involved.
The conference began with a welcoming reception on a Tuesday evening, providing an excellent opportunity for professionals to network and catch up, setting the tone for the days ahead.
The following day was filled with keynotes and breakout sessions, covering a range of topics. Jennifer Hesser, SATO Europe's Marketing Manager in Germany, attended a session on SOTI Connect, SOTI's printer service. "The breakout sessions were incredibly informative, and it was great to see how SATO is actively collaborating with key partners like SOTI to integrate emerging trends into our solutions," said Hesser.
The event also showcased SATO's technological prowess in a practical setting. Our CT4LX printers played a crucial role in the registration process. Attendees were given RFID tags containing essential information such as their name and company, along with a QR code. These tags streamlined interactions at SATO's booth and allowed us to demonstrate our advanced RFID capabilities.
Wednesday evening was marked by a Bavarian Fun Night at the Löwenbräukeller
House, offering attendees a chance to unwind and enjoy some local hospitality.
Thursday began with a focus on upcoming launches, as revealed in the Marketing Keynote. The day continued with more breakout sessions and time in the exhibition hall, culminating in a fireside chat with SOTI CEO Carl Rodrigues and Oliver Kahn, the German former goalkeeper.
SOTI SYNC 2023 was a hub of innovation and expertise and SATO Europe was proud to contribute as a Platinum Sponsor. The event offered an invaluable platform for SATO to showcase its cutting-edge solutions and engage with industry experts, reinforcing its role as a leader in the field.
We're already looking forward to the next SOTI SYNC!