Healthcare Patient Safety Starter Pack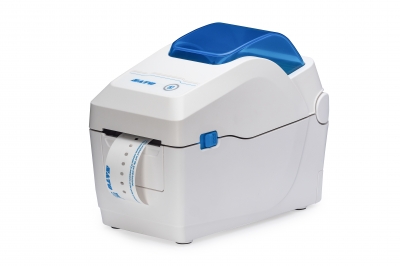 Because staff & patient safety is a common goal for all of us, SATO introduces Healthcare Patient Safety Starter Packs.
To support the growing need of healthcare supplies due to the COVID-19 pandemic, SATO is introducing antimicrobial healthcare packs to provide ready-to-use solutions for hospitals, clinics, pop-up field hospitals and testing sites.
ONE SOLUTION FOR MULTIPLE APPLICATIONS
Specimen & Sample Labels . Testing Labels . Lab Labels Safety/Warning Labels . Patient Identification Wristbands
EACH STARTER PACK INCLUDES
Antimicrobial and disinfectant-ready, the WS2 printer is ideal for healthcare organizations in need of a high-quality compact printer able to print both wristbands and labels.

Safety Band DT Line Wristbands

Comfortable, durable, antimicrobial and non-skin irritant, the SATO Safety Band DT Line wristbands remain legible after exposure to water, abrasion, hands disinfectants, cleaners and everyday wear. Comes in its adhesive closure version with a tamper proof system.

Specimen / Samples DT Labels (50x25 mm)

Top coated PP direct thermal labels with permanent adhesive tailored for patient specimen and samples collection application in hospitals. Withstand harsh environmental conditions and print without the need of thermal transfer ribbon.
HEALTHCARE PATIENT SAFETY STARTER PACK OPTIONS
| | | |
| --- | --- | --- |
| | PACK 1 | PACK 2 |
| Part Number | HCWS2LWB2 | HCWS2LWB3 |
| Thermal Printer | WS2 203 dpi | WS2 305 dpi |
| Specimen / Sample DT Labels | 1 box (30,000 labels) | 1 box (30,000 labels) |
| Adhesive DT Wristbands | 1 box (1,600 wristbands) | 1 box (1,600 wristbands) |
Need more information? CONTACT US