INTELLIGENT, RELIABLE AND REMOTE SOLUTIONS FOR MANUFACTURERS SWITCHING PRODUCTION LINES DURING TIME OF CRISIS
15/06/20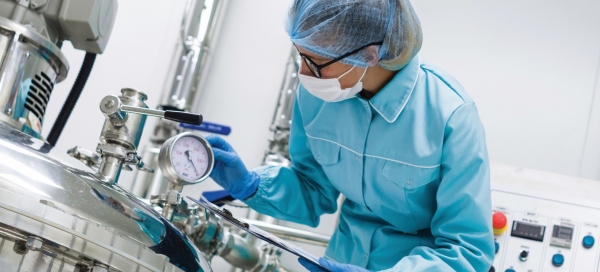 Across the world, the manufacturing industry has made huge efforts to adapt to an unprecedented and continuously changing business environment from COVID-19 (coronavirus). International governments have called upon manufacturers – be it those who specialise in car parts, beauty products or home tech – to alleviate mounting pressure from overburdened companies who produce lifesaving medical equipment and supplies. In a bid to help save lives and ease this pressure, manufacturers have stepped up amid the outbreak and switched their active production lines to help where they can.
Alongside precautionary measures to protect their workforce, such as adding hand sanitiser stations and splitting workforce shifts to adhere to social distancing requirements, European beauty manufacturers – such as German-based Beiersdorf and French company L'Oreal – have changed their current face cream and perfume production lines to start manufacturing disinfectants and hand sanitisers. While in Puerto Rico, Bacardi's rum distillery has reallocated certain lines to begin producing ethanol for hand sanitisers.
This monumental effort from manufacturers is part of the reason why essential items have continued to reach those communities that need it the most. To help ease the pressure on the industry, SATO is working with its manufacturing customers to support increasingly complex and challenging supply chain processes through its range of automated hardware and software solutions.
With automation a key feature, the NX series of intelligent printers from SATO are designed for operational efficiency. From goods-in receipt management to picking and assortment, the PW2NX and CLNX label printers are both flexible and customisable to adapt seamlessly into any production line environment. Combining advanced intelligence with emulations and speed of data, the NX series of printers are an ideal way to collate, check and apply data in real-time with timestamp labelling. For example, the PW2NX can be mounted on a forklift truck by a warehouse operative to print auto identification labels on-demand at a maximum speed of 152mm per second – an industry leading throughput. While the CLNX Radio Frequency Identification device (RFID enabled) can print labels for raw materials indicating location codes, improving accuracy and efficiency through the workflow.
In today's challenging environment, flexible solutions that are reliable and secure are key. That's why SATO intelligent printers are available with SATO Online Services ('SOS'). As a cloud-based system that connects with the NX, LX or FX range, each printer is monitored and maintained by remote technicians to prevent and limit downtime, should an issue occur. With a broad range of data collected for each device, including its serial number, location, status of expendable parts, systems information and error logs, engineers can monitor the device in real-time to keep operations running smoothly. For example, if a printer encountered an error, an engineer could identify and resolve the issue in real-time, limiting the downtime. Or, if a replacement part was required, the engineer can act preventatively to avoid downtime altogether. With social distancing in effect, SOS is critical to operational efficiency.
SATO is doing everything it can to support the manufacturers by delivering on-demand solutions to boost global industry efforts and enable effective production workflows, without causing unnecessary downtime. In times of crisis, remember that we are in this together, lending our strength and support to combat this disease.
If you need any assistance with maintaining operational efficiency, we're here to support you at: https://www.satoeurope.com/contact/.
Latest Events
All Events

09 Nov 2021 - 10 Nov 2021
SATO will be present at The Restaurant & Takeaway...
All Events