SATO Web AEP Enables Web Applications To Run Easily On Intelligent Label Printers
29/07/21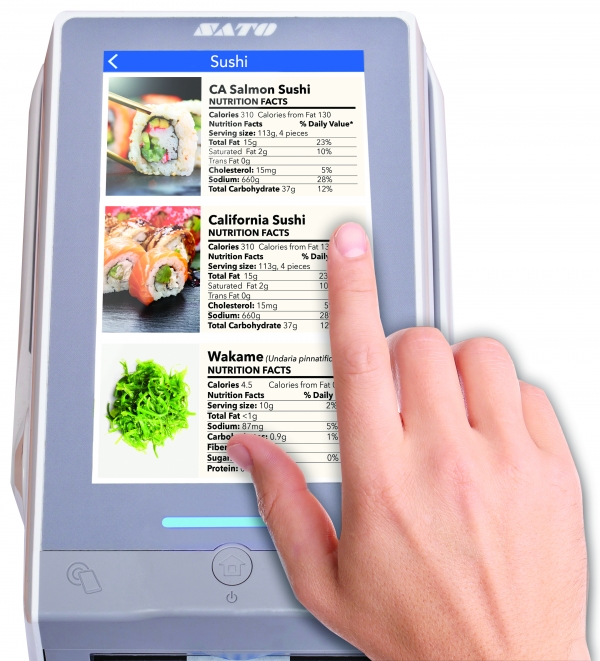 Easy to integrate and highly scalable for Independent Software Vendors (ISVs)
When SATO Application Enabled Printing (AEP) was launched it was a revolutionary technology that enabled users to print without a PC via a smart network, the cloud or an internal stand-alone database by connecting devices like scanners and scales directly to the printer. This onboard intelligence meant that Independent Software Vendors (ISVs) could customise printer operations in any vertical to simplify the labelling process, reducing business costs, human error and manual labour. Now, we are taking AEP to the next level with Web AEP.
This intelligent solution is now much more flexible for web developers. With Web AEP, developers can use common web technologies and code languages like JavaScript, HTML5 and CSS to create applications. That means it's fast, fuss-free and easily scalable for the most complex customer environments.
For MobileLogic Sweden AB ('MobileLogic'), a market-leading cloud mobility application developer, making digital processes easy for its customers is top priority. Based in Sweden, the company has been involved in developing IT software applications for a range of industries over the last 10 years. Powered by its vision to make things easy for the end user, MobileLogic created its first major application service, LogicCenter.
Operating under the platform as a service model, LogicCenter is a Microsoft Azure-based application that creates easy-to-use, web-based applications that can be controlled from a simple browser for a single page browsing experience. In addition, the application service can shape processes graphically for a range of markets and does not require any further installations. To meet the company's requirements, the solution needed to be:
Easy to start – Helping customers test live and not in theory
Easy to use – Helping customers make the right choices through simplicity
Easy to evaluate – Delivering added value to existing mobile workflows to see what does and does not perform well
Easy to evolve – Create new processes and test them in a controlled, live environment
To excel in these areas, MobileLogic required a solution that not only made it easy for the end user to use, but also delivered a flexible and dynamic graphical engineering backend process that could be developed at speed and was easy to scale.
The challenge
Finding a web-based application enabled solution that could be operated by the end customer without any technical know-how or shared infrastructure is no easy task, especially when creating a platform to be used by multiple stakeholders. The chosen solution would be the backbone of the system, so it needed to be accurate, automated and utilise existing web technology to create a fully functioning platform.

For the product, MobileLogic already had a customer in mind. Swedish sushi chain, an in-store supermarket sushi chain, were a cloud-first start-up company with stores in Stockholm and Gothenburg, Sweden. With no shared infrastructure, the chain required a single point of operation to quickly produce accurate and compliant labels at speed, alongside detailed records on food production and waste.
To deliver this, MobileLogic partnered with SATO, choosing the FX3-LX intelligent printer with the power of Web AEP technology to create a dynamic and bi-directional visual application that would communicate in real-time for its customer. In addition, the printer's 7-inch touchscreen was an integral part of the application's success, making it easy to use with no prior experience or knowledge required.
The SATO Solution: Web AEP
"Web AEP made it possible for MobileLogic to continue with its vision of LogicCenter," said Patrik Gustafsson, CEO & Founder at MobileLogic Sweden AB. As a start-up company, A Swedish sushi chain, had no existing infrastructure and wanted to hit the ground running with a scalable label printing solution that just worked.
After consulting with SATO the customer knew that Web AEP and the FX3-LX was the right combination for LogicCenter. It enabled him to use common code languages, such as HTML5, CSS, JavaScript and TypeScript, during development and create agile applications that could easily scale with the customer. Once the initial system was in place, the customer could then utilise Web AEP to deliver a uniquely customised and visual tool that's tailored to their customer's environment. We designed the Swedish sushi chain solution in a simple drag-and-drop interface, meaning there was no need for complex coding.
"In combination with the FX3-LX printer, the application is a simple point and click tool for the Swedish sushi chain. Since the chain packages the sushi for the end users in the supermarket, we customised the application to the user's specific needs. To do this, we connected a scanner and scale directly to the printer. So, when a user scans the article via a barcode, the application then searches the recipe database and checks if the item is variable in weight. It then creates the unique product information and generates all data for the label in milliseconds. Essentially, the process is instantaneous."
Implementation
MobileLogic kickstarted the installation process with the Swedish sushi chain in mid-2020. With help from the SATO European engineering team, the FX3-LX printers were up and running with the LogicCenter Web AEP client in four of the Swedish sushi chain locations in Stockholm and two in Gothenburg. By using a scale, 2D scanner and the LogicCenter cloud, all articles could easily be registered and printed to any label design template.
There was no need for customer training either. the Swedish sushi chain could easily use the FX3-LX and its application to instantly view what had been produced that day, alongside any leftover waste. Users were also able to view the planned, printed and produced status of each label and add new articles to the database by importing an excel file into the web database.
"The SATO FX3-LX is easy and convenient to use with our LogicCenter application," added Gustafsson. "For example, they can choose different Sushi recipes, as well as select individual ingredients, allergens, prices and regulations before generating a label for printing. Using our cloud database, they can continuously update products and prices when required and filter this through to every store."
Overall Impact
MobileLogic prides itself on making the digital process easy. With SATO Web AEP and its innovative LogicCenter platform as a service, the company has been able to deliver an application that can be tailored to many different markets, while remaining accurate, flexible and scalable.
Gustafsson commented: "Since our biggest challenge at MobileLogic was to create a service that could simplify the most complex customer needs, with no need for deep programming capabilities, we're pleased to say the SATO Web AEP solution was the best choice for our platform."
The Swedish sushi chain was also suitably impressed with the MobileLogic solution too. The representative at Swedish sushi chain commented on the collaboration that SATO Web AEP printer technology combined with the LogicCenter application is a major time-saver for our employees. Its simple and easy way of defining complex processes has enabled us to introduce a hands-free, cloud-connected labelling approach to our operations. It is a fantastic solution that saves us time and money, while delivering exceptional accuracy.
To find out more about Web AEP, or for more information on SATO intelligent printers and services, please visit: https://www.satoeurope.com/
Latest Events
All Events

26 Feb 2023 - 02 Mar 2023
In 2023, EuroShop will once again be the international highlight...
All Events