The 'New Normal': Why gloves in the kitchen are no longer a constraint
23/07/20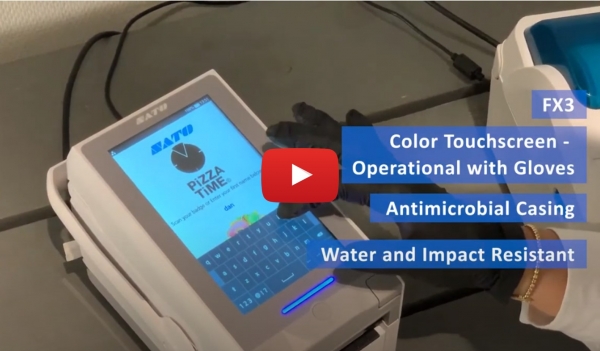 The impact of COVID-19 has been felt across all industry sectors. Changes to operational processes with health and safety regulations mean businesses and their customers now need to adapt to life in the 'new normal'. For SATO, we want to help businesses to flourish in the new normal. It's why we've started the 'New Normal with SATO' campaign – a way to anticipate future market trends and offer solutions to facilitate day to day business.
The quick service restaurant industry is now up and running after lockdown restrictions were eased, but it hasn't been an easy road to recovery following COVID-19. Between the preparation of food while wearing masks and disposable gloves to serving customers at a drive-through, implementing stringent health and safety policies that observe the 'new normal' has been particularly challenging.
Research from Kantar suggests that while food deliveries surged in the week before lockdown (up by 57%), a slump was then recorded by takeaway delivery apps due to the uncertainty and fear around the virus transmission. This 'public fear' only spurred the QSR industry to adapt quickly and react to changing consumer perception. Soon, all food preparation – regardless of business size – required employees to wear disposable gloves and visors or shields, where appropriate, in the kitchen.
Yet gloves and shields, for many businesses, can pose some additional challenges to the workplace. For example, operating touch-screen machinery can be an issue when wearing gloves. So, while big brands and fast food outlets adapt and shape to accommodate the new normal, SATO is ready to help.
Labelling technologies that offer ease of touch with disposable gloves and those that minimise and limit the spread of bacteria leading to further contamination are just some of the solutions that we offer. For instance, the FX3-LX – a highly customisable and portable label printer – is optimised for use in restaurants and fast food outlets. With its easy-clean and anti-bacterial casing, the label printer can be fully operated with gloves to meet stringent health and safety standards. As such, employees can change nutritional information, ingredients and allergens in real-time, driving down costs and boosting efficiency. It's a great solution to adjust to life at work in the new normal, showing that gloves in the kitchen are no longer a constraint.
For advice on cloud connected printer solutions or to explore your options with SATO, contact us at: https://www.satoeurope.com/contact/.
Latest Events
All Events

09 Nov 2021 - 10 Nov 2021
SATO will be present at The Restaurant & Takeaway...
All Events