TIME-SAVING SOLUTIONS FOR THE TRANSPORT & LOGISTICS INDUSTRY TO SUPPORT THE DELIVERY OF ESSENTIAL GOODS
06/07/20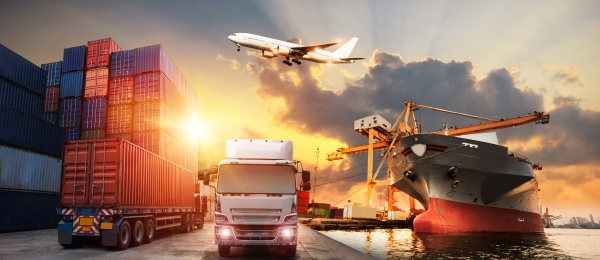 Globally, we rely on the transport and logistics industry more than we realise. It's the connecting bridge to the food, hygiene, pharmaceutical, manufacturing and distribution industries, transporting goods for our survival and for our trade agreements. Without these companies, the import and export of goods we need for our supermarkets, hospitals, energy suppliers and public transport systems would not be adequate.
As demand for warehousing and transportation surges across the world, logistics firms have been working around the clock to continue supplying essential goods. In the UK, cargo flights containing upwards of 350,000 PPE equipment landed in Heathrow in early April to support key workers in the NHS. Elsewhere in Europe, a charter flight of food produce was shipped into Paris from Benghazi. While in the US, marine ports have been used to station two hospital ships to treat non-COVID-19 patients to relieve pressure on local hospitals in Los Angeles and New York City.
Across the globe, there are many more stories like this. Demand for last-mile delivery routes has increased dramatically from small independent grocery stores, bakeries and restaurants. Some companies are addressing these operational challenges by offering video conferencing tutorials to help smaller businesses get up to speed and help them stay afloat. While others are benefiting from technology that can assist in the real-time visibility of goods, the location of assets, and employee tracking.
SATO is working with transport and logistics firms to drive down time between deliveries with effective hardware and software solutions that ensure accuracy at all points of transfer. Software such as SATO Visual Warehouse™ enables a smooth and efficient flow of products and information from goods receipt to inventory management and shipping.
Developed as the industry's first wearable navigation system, Visual Warehouse can discover items with precision through barcodes and remote frequency identification ('RFID') tagging. Once the item is found, the solution then helps key workers locate items more easily in the warehouse by utilising 3D maps and voice guidance tools. A user-friendly, automated solution that can be worn by logistics workers of any experience level to help reduce errors and save time when it's most crucial.
For logistics firms working to a tight schedule, particularly for those working on a last-mile delivery route, fleet management is important no matter how large or small. Courier, Express and Package (CEP) deliveries are vital to those who are self-isolating and require access to food packages or medical supplies. Intelligent mobile label printers such as the PW2mNX are fast, consistent and specifically designed for CEP deliveries. With a lightweight and compact design, the PW2mNX is great for identifying, tracking and reporting post and parcels at each stage of the shipping and delivery process. Operators can easily scan information and print labels from any location via wireless connectivity, while relying on its high-speed linerless label system to support tight delivery schedules.
RFID tagging solutions are also an effective solution to tackle fleet management challenges. SATO provide a range of RFID printers and tags that can help sort, direct and track pallets, cartons and intermediate bulk containers without relying on human intervention. For warehouses that are retooling their layouts to add barriers in storage facilities and marking floors to keep to social distancing requirements, RFID tagging is a great way to limit social interactions and prevent the spread with fixed readers that can be either wall mounted or attached to vehicles.
Between delivering on-demand solutions to pinpoint the exact location of a warehouse item to ensuring accurate logs are taken at each transfer point, SATO is doing everything we can to support the transport and logistics sector. It's in times like these that we are grateful to all key workers for doing their part, ensuring essential goods are delivered to the rightful owners every time.
If you need any assistance on warehouse and distribution management in the transport and logistics sector, we're here to support you at: https://www.satoeurope.com/contact/.
Latest Events
All Events

29 Sep 2023
In a world where nothing is certain anymore, data is our only...
All Events