Why the PW4NX is Revolutionising Thermal Printing in a Growing Market
07/03/23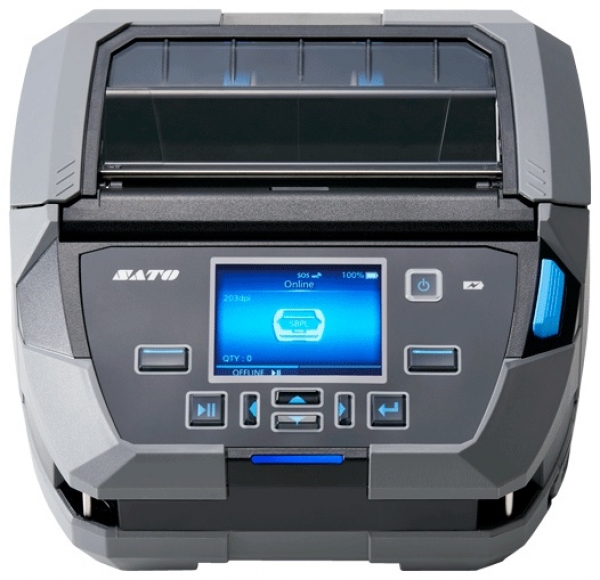 As the global thermal printer market continues to grow, innovative and efficient printing solutions have never been more crucial for business. This applies all the more so in an era where supply chains are suffering and energy costs spiralling.
And that's why SATO, a leading AUTO-ID provider, has launched a compact, sustainable and super-efficient solution. The PW4NX. It's a game-changing thermal printer that is designed to revolutionise your printing operations and help your business stay ahead of the curve.
According to recent market studies, the value of the thermal printing market is projected to exceed $4.5 billion by the end of 20281. Factors fuelling these soaring figures include the growing use of auto ID and data capture technologies, rising product safety concerns and the corresponding need to combat counterfeiting. Thermal printing is also the go-to technology for the latest on-demand printing applications.
It's fair to say the PW4NX is well-placed to reap the benefits of such trends and remain ahead of the curve. Robust as they come, IP54-rated and maintaining a high performance, however dusty or damp the places in which it is used.
On the topic of durability and robustness, the PW4NX can also print labels that are just as capable of withstanding the most challenging conditions, e.g. abrasion, moisture and extreme temperatures. And this makes it an ideal choice for retailers needing to label products, packages and shelving in tough environments, like outdoor or refrigerated sections. Its labels will not fade or smudge, ensuring that key information like barcodes and pricing remains legible and scannable for as long as necessary. The flexibility of this printer also lets it accommodate wide-ranging label materials and sizes, giving retailers scope to create custom labels that meet their specific needs and branding requirements.
With AEP (Application-Enabled Printing) and cloud compatibility among the numerous features included in the PW4NX, retailers and end users gain even more value. Over and above high-quality barcode labels on demand, it lets retailers get an accurate handle on their inventories in near-real time. Knowing which stock is where and monitoring it can help power significant cost savings for businesses, even up to 40%, compared to the inventory cycle of once every few months.
Going forward, barcode-capable printers like the PW4NX are expected to dominate, with a projected market value of $48.8 billion2 over the next four years. Businesses of all sizes rely on them to label and subsequently track the products to be shipped. Its ability to print barcodes, tickets, labels and receipts at desktop-level quality is a huge plus for wide-ranging industries, including healthcare, hospitality, transportation and logistics.
Two ideal applications for the PW4NX that leverage its cloud compatibility in particular are BOPIS (Buy Online, Pick up In-Store) and SFS (Ship From Store) technologies. They can create high-quality barcode labels on-demand, making them useful for businesses of all sizes and their portability allows them to be used in various settings, in store as well as in warehouses. Printers of this kind are also cost-effective and can help businesses streamline their operations by reducing errors in tracking and shipping products. Given the growing popularity of e-commerce, the demand for barcode-capable printers is expected to continue increasing in future.
The PW4NX is designed to address some of the challenges facing the thermal printing market, such as substandard image quality for barcode labels and stringent printing regulations. Bolstered by the emergence of IoT (Internet of Things) technology for printing applications, it guarantees businesses a reliable and efficient printing solution.
IoT technology enables the printer to be managed and monitored remotely, so that businesses can track their printing operations in real-time and receive alerts when maintenance is required. Predictive maintenance reduces the risk of unexpected downtime and improves printer lifespan, while secure authentication and access control enhance document security. SATO's SOS (Sato Online Services) is the perfect example, giving businesses access to a virtual engineer 24/7 and providing instant support and troubleshooting assistance from anywhere worldwide.
With its cloud-based platform, SOS allows businesses to monitor printer health and performance remotely and identify and resolve any issues swiftly before they escalate. This level of support and service not only maximises printer uptime and productivity, but also frees up valuable IT resources, allowing businesses to focus on more strategic initiatives.
Integrating IoT technology with printing solutions like the PW4NX can help businesses reduce costs, improve efficiency and enhance security. It enables secure authentication and access control for printing jobs, ensuring only authorised persons print sensitive documents and helping prevent data breaches.
Globally, the thermal printing market was estimated to be worth $34.11 billion at end-user level in 2020, rising to $42.31billion by 2025, representing a 4.4% CAGR over the forecast period. And in Europe and beyond, the PW4NX is set to make a significant impact. With its advanced features and capabilities, the PW4NX is ideal for businesses operating in the healthcare and hospitality, transportation and logistics and supply chain industries.
In conclusion, the PW4NX thermal printer is a highly reliable and efficient solution for businesses that need a failsafe solution to keep them productive. Thanks to advanced features and thermal transfer technology, it can meet the demands of various industrial applications. The PW4NX's ability to produce high-quality, accurate and durable labels is critical in industries where precise labelling is necessary. With the global thermal printing market set to grow significantly, this unit is perfectly placed to meet evolving business needs in industries across the board.
1 Figure estimated by Persistence Market Research in this article
2 Figure estimated by ReportLinker in this article
3 Estimates by Smithers in this article
Latest Events
All Events

29 Sep 2023
In a world where nothing is certain anymore, data is our only...
All Events