The Simplified Store
Radio Frequency Identification Device (RFID) technology is a key enabler in delivering simplification and efficiency to retail operations management.
RFID enables retailers to improve visibility and tracking of inventory both in storage and on the shop floor, to prevent stock outs and manage shrinkage. RFID can monitor store operations through accurate and timely stock replenishments, as well as support the management of on-shelf availability of goods by enabling the tracking of goods; helping operators to have the right product, at the right price, on the right shelf, at the right time.
With the growth in 'Click and Collect' retail models, RFID is ideal for the picking process at distribution centres and management of the shipping process to stores for collection, as well as being integrated into a store's security system to detect theft and fraud.
SATO is also the only printer supplier to offer hardware that can encode an NFC label and provide it in a combined solution, where required, with an RFID UHF applied. This is especially suitable for business-to-business supply chains, such as hardware and electronics.
Alternatively, in the B2C environment, the consumer is able to scan the NFC device with a smartphone to receive information such a product manual, technical support or installation information. The latest generation of SATO printers CL4NX, are the only printers on the market with this dual print capability.
Shelf edge labelling solutions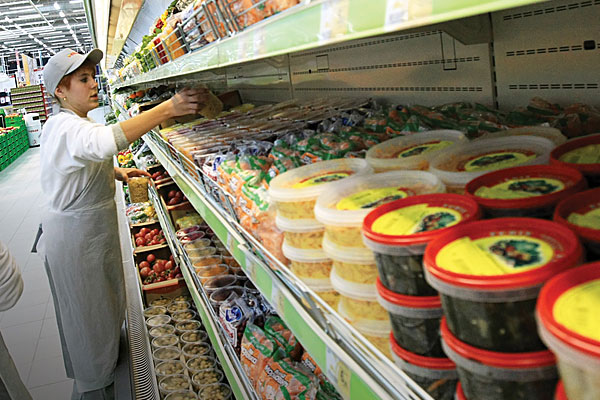 Effective, timely and accurate shelf edge labelling in store can both improve customer service and boost sales. By eliminating the need to manually cut and sort temporary shelf edge labels, retailers can also save costs while improving their ability to get the labels on the shelf on time, minimising labour time and costs.
SATO's shelf edge labelling products are both convenient and cost effective. SATO mobile printers also enable employees to produce labels at the shelf edge. They boast a ribbon free printing system, using thermal card, giving a print clarity that is second to none. In addition to a wide choice of fonts and colours, backgrounds can be specified providing a distinctive, high impact result.
SATO provides a range of print and cutter/stacker solutions to allow retailers to generate shelf edge labels in the supply chain process and distribution process to provide ready-to-apply labels without involving third party printing services. If in-store shelf edge labelling makes more sense, then SATO offers a range of mobile, desktop and trolley systems to do the job with a variety of label stocks to meet every retail need. All retail environments have different branding requirements and SATO knows there is no 'one size fits all' approach to shelf edge labelling.
Delivered to store already cut and stacked, SATO shelf edge labels eliminate waste in manually separating sheets of labels, saving time and costs. On demand printing allows complete flexibility on the shop floor for just-in-time promotions and enable cross-promotions and responsive merchandising to deliver a positive impact on sales.
See SATO Solutions
Inventory control & stocktaking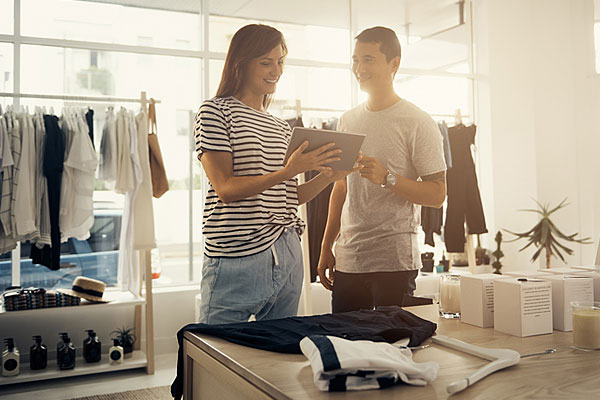 Efficient inventory control in the fast paced world of retailing - whether clothes, furniture, hardware or food and drink - is key to operational effectiveness and profitability.
The use of RFID in labelling, tracking and tracing goods for inventory management purposes has made a huge impact on retailers in recent years. Being able to accurately understand the inventory situation and manage changes real-time - along with synchronising with the online demand situation - enables retailers to manage their new omnichannel world far more effectively.
As a leader in auto identification and data collection solutions for the retail sector, SATO provides a comprehensive range of printers, software and label solutions designed specifically for the fast moving retail environment. Developed to provide managers with visibility, transparency and the ability to make strategic decisions in real time, SATO delivers efficiency gains for many of the world's leading retail chains.
Providing database software and hardware for hand-held scanning systems, SATO works with its partners to make the inventory control process easier and more efficient. SATO systems can either be based on a batch collection method, where data is uploaded via a data cradle, or based on wireless technology for real time updates to database records.
See SATO Solutions
Queue busting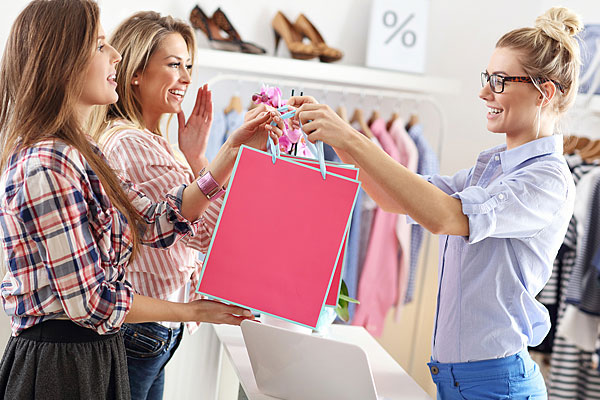 Surveys have shown that consumers' single biggest complaint about retailers is having to queue when ready to pay. Long checkout lines mean lower customer satisfaction; traditional bricks and mortar retailing is tough enough nowadays without giving consumers an excuse to go online. SATO has a wide range of solutions to make retail customers feel important and get them on their way.
SATO mobile printing solutions help customers check out faster, issue receipts, return slips and process payments almost anywhere.
To minimise the amount of time customers have to wait to pay, SATO has a range of queue busting solutions that utilise mobile hand-held barcode terminals and lightweight thermal printers to process payments and issue receipts.
See SATO Solutions

Can't find what you're looking for?
Contact us