SATO Introduces Best-in-Class 4-inch Mobile Printer to Reduce Costs over Time
07/03/23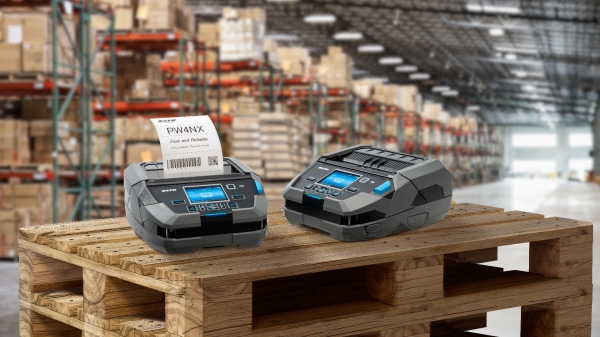 SATO, a global pioneer in the development of auto-ID and labelling solutions, today launched the PW4NX 4-inch mobile label printer. The PW4NX is designed for mobility, speed, durability and minimal downtime to lower total cost of ownership (TCO) in a range of business-critical mobile labelling applications in logistics, retail, manufacturing, healthcare and food service.
Warehouses are typically staffed by operators that tend to work extended hours, inevitably resulting in mistakes. For warehousing and retail logistics, printing at the point of application is more accurate and productive and the reason why mobile labelling has grown in popularity in recent years.
Ease of use, flexibility and cost savings are crucial success factors for e-commerce companies. Volume continues to grow, causing additional stress on operations. Annual growth of 14 percent in the US1 and 17 percent in Europe2 is expected as the
e-commerce market grows to $2.3 trillion in the US and Europe by 2025.3 As manufacturers and logistics providers fulfil growing order volumes, they must make smart warehousing investments to maintain efficient flows of goods. The PW4NX serves as the centrepiece for mobile labelling solutions that lower total cost of ownership in the factory, retail warehouse, distribution centre and more.
Its industry-leading 6 ips4 print speed reduces printing time by 32 percent.5 This lets workers move on to the next task faster for greater productivity. Retailers and warehouse operators prefer to use mobile printing during peak seasons but common challenges like slow output and substandard results may mean they use stationary or desktop printers pushed around on trolleys to ensure print speed and quality. With desktop-level print quality, the PW4NX allows easy mobility for accuracy. It also prints with consistent quality and with a smaller footprint to reduce upfront cost. 
In terms of upkeep, consumable parts like platen rollers and print heads are replaceable for significant cost savings.6Remote monitoring of printer usage data helps prevent downtime caused by worn-out parts and batteries needing replacement. Smart battery management also allows those managing large operations to monitor the battery health for individual printers across numerous locations, helping reduce the cost of replacement.
With mobile label printing, durability means less downtime. This translates to a longer life and higher ROI. The PW4NX has a durable body designed to survive drops of up to 2.14 m (7 feet) and its IP54 rating protects it against dust and water splashes in the most demanding working environments. In the warehouse, the PW4NX also has the exceptional vibration resistance needed for mobile printers mounted on forklifts.
"I am excited to add a high-performance mobility option to our product range," said Goro Yumiba, Global Operations Officer at SATO Holdings Corporation. "In addition to its best-in-class design, we will make PW4NX the centrepiece of customer-centric solutions with genuine consumables and add-on services like MDM, apps and maintenance support that reduce running costs over the lifetime of the investment."
Innovative features of the PW4NX
▪ Consistent 6 ips high-speed printing
▪ Consistent print quality regardless of battery level
▪ User-friendly design for easy parts replacement
▪ Remote management via SATO Online Services and SOTI to help prevent downtime
▪ Advanced applications enabled by SATO AEP (Application-Enabled Printing)
▪ Smart battery management
▪ Robust and durable body for a long service life
▪ Robust linerless printing to reduce waste
▪ Wide-ranging peripherals to suit many on-site usages
U.S. Census Bureau News QUARTERLY RETAIL E-COMMERCE SALES 4th QUARTER 2021
E-commerce in Europe 2021 (e-commerceDB.com)
Retail e-commerce revenue in the United States from 2017 to 2025 (Statista),
E-commerce in Europe 2021 (e-commerceDB.com)
Inches per second. PW4NX can maintain print speed and quality at 6 ips, even on a low battery
SATO survey (when printing ten million labels per year vs. previous SATO 4" mobile model)
SATO survey (Over $10,000 savings assuming 100 print heads per year are replaced)
For pricing and more, please contact your local SATO representative.