A Smart Story
With the increasing complexity of supply chains around the world, accurate real-time data processing is crucial to business efficiency. For operatives, the ability to print accurate labels on an internet-enabled device is a must-have function when using label printing equipment. For planners, the ability to respond to fluctuating consumer, market and supply chain demand, while keeping error margins low, is essential.
At SATO, we have listened to our customers and in cooperation with an experienced partner of us - OPAL, we have developed "Smart Printing Client" for SAP® software - a software solution designed to unlock accuracy and efficiency gains, straight from SAP software to the printer, for businesses operating in a wide variety of markets.
What is "Smart Printing Client" for SAP® software?
"Smart Printing Client" for SAP® software is an application programming interface (API) based on the SATO Application Enabled Printing (AEP) technology platform that eliminates the need for complex interfaces and the provision of client terminals for label printing. The Direct Printing with SAP® application allows operators to execute label transactions in SAP® and directly on the printer's display.
Due to secure communication between the printer and SAP®, via SATO AEP technology, organisations can access data and control label printing straight from their enterprise resource planning (ERP) system. This method can be utilised within the organisation itself and to great effect with external partners, suppliers and subcontractors. Importantly, the solution eliminates the labour-intensive and potentially costly re-labelling of goods receipts, ensuring discrepancy-free changes to layout and data are applied across the board, without delay.
Key features of "Smart Printing Client" for SAP® software
Simple Registration
- New printers with an internet connection can be registered via a token. Only authorised devices can communicate with the printer
Secure Channel
- The printer uses a secure connection and print data are strongly encrypted, eliminating potential manipulation
SAP® Integrated
- Printers are integrated into SAP® and receive print jobs directly, regardless of location
Multiple Inputs
- Users can make specific entries via the display, external keyboard or barcode scanner, enabling an all-in-one printing solution
User Interface
- Users can select labels via a colour display and print on site with no additional equipment required
KEY BENEFITS OF "Smart Printing Client" for SAP® software
The "Smart Printing Client" for SAP® software API allows users to access SAP® data processing resources to execute label printing directly from the printer display.
Printers with a WAN connection can easily and securely supply data and resources from SAP® to business partners outside the organisation. This means no time or effort is lost along the supply chain due to disparities and inaccuracies in data.
With "Smart Printing Client" for SAP® software, all label processes, layouts and data can be managed centrally in the SAP® system, straight from the printer.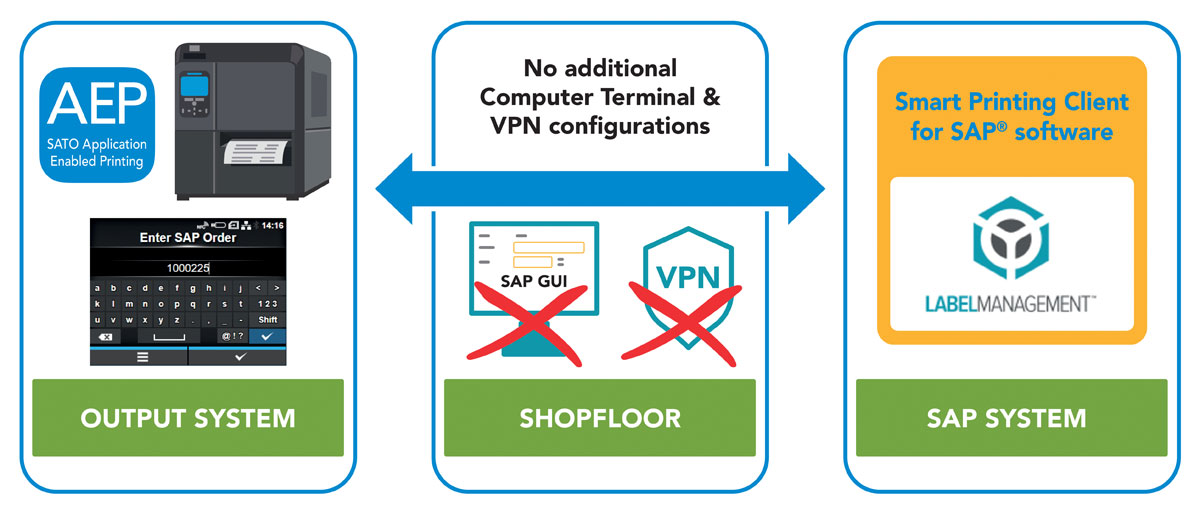 Enquiry form
If you need more information and would like to be contacted, please fill in the enquiry form below.
By submitting any Personal Information to SATO, you acknowledge that you have read, understood, and agree to be bound by our privacy policy