How SATO can help the HoReCa industry establish a food safety culture
15/09/22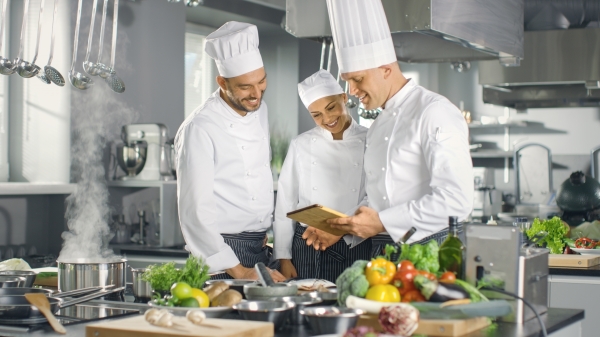 To the Hotel, Restaurant and Café ('HoReCa') sector, food safety management is vital. Each business is required to develop its own set of procedures based on the Hazard Analysis and Critical Control Point (HACCP) legislation, following good hygiene practice daily and ensuring that food safety needs are continually met. With the Covid-19 pandemic spotlighting consumer health, it's now more important than ever for the food service and catering industry to manage their HACCP processes effectively and efficiently. For many businesses though, it's a laborious and manual task that can often result in voluminous paperwork. There's also room for human error too, which could lead to a fatal result.

However, the challenges do not just stop there. The European Commission has recently updated its Regulation (EC) No 852/2004 to include recommended requirements surrounding food safety culture. The aim of the new legislation is to increase awareness of food safety and improve employee conduct, while delivering an effective and standardised approach throughout the industry. From March 2021, this means all businesses within the EU must interlink their HACCP procedures with a food safety culture, ensuring there is a clear distribution of responsibilities with appropriate training and management courses provided. In addition, all verification checks will need to be performed in a timely manner with accurate and up-to-date documentation.
Yet with varying business sizes and needs, how does the HoReCa industry ensure they follow a standardised approach? Fortunately, this is where SATO can help.
A perfect combination
Our 2-in-1 business solution combines the powerful intelligence of the SATO FX3-LX printer with a Food Safety Management application to help you control, manage and maintain an excellent food safety culture. Integrated with your HACCP process, this effective 24/7 solution enables complete regulatory compliance for optimal product traceability and is the only one of its kind on the market today. Here is how the SATO solution can make a difference to your business…
Developed by chefs, for chefs
As a fully customisable and portable solution, the FX3-LX and the Food Safety Management application can adapt to the most complex of business requirements. The printer's simple and user-friendly 7-inch touchscreen interface is a prominent feature for chefs and is excellent for organisations that require multiple languages for employees. Perfect for the lunch and dinner service rush.
Since the solution has been developed with chefs, it means there are different levels of access too. From a standard user to administrator and supervisor, user profiles can be personalised to suit the business environment. With a quick glance, it's easy to understand if any HACCP checks have been missed so they can be rectified on inspection. Supervisors can also receive configurable email alerts too, so any flagged health risks can be resolved in moments.
Saves time and reduces product loss

Manual, handwritten processes and mounting HACCP paperwork can result in inefficient time lost and subsequent food waste. An effective food safety culture is also a sustainable one, which means digitization of records is now a crucial step for the HoReCa industry.
With the SATO 2-in-1 solution, all of your records – be it Health Management Plans, product data, or INCO and allergen labels – are automatically saved in a central database and can be exported via USB as required. Not only does it save time, the solution also ensures business documentation is accurate and fully up to date, as per the latest European Commission guidelines.
Customisable self-checks for full traceability
On receiving goods, businesses must check various HACCP points including product temperature, the use by / best before date, the condition of the package and more. Carrying out these actions couldn't be easier than with the SATO Food Safety Management application, since it comes with an inventory module that enables efficient and simple management of product stocks in real time. In addition, product labels can also be archived digitally, so there's no need to physically store them.
Checklists for cleaning, temperature auto-controls and even oil self-checks are also included as standard with the application. As such, all checks can be set in parameters with a scale of regulatory values. This means if a risk or deviation is discovered, corrective actions must then be made in order to remain compliant with HACCP guidelines. For supervisors and managers who require accurate reporting methods, the combined solution also features a tool for reporting and analysing the application's data. It's simple but effective.
Despite the challenging times the HoReCa industry has faced over the last year, we know there is light at the end of the tunnel. Establishing a food safety culture in times of uncertainty is tough, especially when automated technology and digitization is so vital to the food service industry right now. That is why SATO – a leading global provider of auto-ID solutions – is ready to help.
For more information about SATO solutions that can facilitate your HoReCa business, visit satoeurope.com/markets/restaurants-food-safety
Latest Events
All Events

26 Feb 2023 - 02 Mar 2023
In 2023, EuroShop will once again be the international highlight...
All Events