Labelling automation that puts warehouse worker wellbeing first with the S84 86NX Smart Print Engines
24/01/23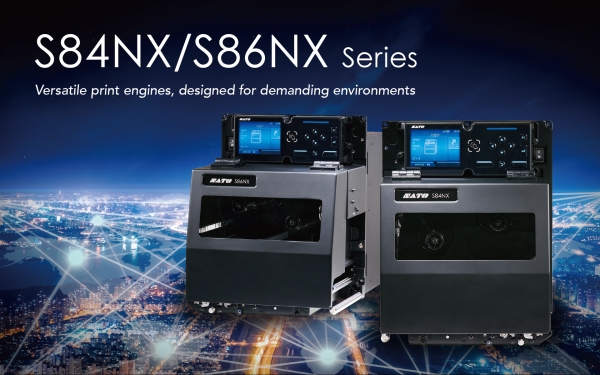 Figures show an ever-growing productivity gap for many warehouse and logistics employees. A recent YouGov report stated that 47% of industrial workers cite stress as a daily challenge in their job1. A separate survey conducted by a wearable scanner solutions vendor reported that 42% of warehouse staff saw exhaustion and fatigue as today's leading workforce challenges2.
And one thing companies are finding hardest to handle is incessant consumer demand. True, the cost-of-living crisis may have slowed e-commerce orders, but the chronic shortage of warehouse and logistics sites still means overwhelming volumes to handle. Facing what has become cyclical burnout, almost a third (32%) of warehouse and transport employees find engaging with family and friends after work too exhausting1.

Worker burnout: the ways forward
Previously, the decision-makers in transport and logistics would generally try and refocus on new technology to boost automation to ramp up worker productivity. The preferable option, however, would be to review key performance indicators by improving processes and workflows, while optimising space and layout. Approaching the issue from an employee-centric mindset is key to easing their burden and helping ward off the pressures that lead to burnout.
In other words, introducing user-friendly labelling automation technologies that are built around the worker and require next to no training could save money and help make stress, fatigue and exhaustion in the warehouse a thing of the past.
Introducing the S84NX & S86NX smart print engines
The SATO S84NX & S86NX are ultra-versatile thermal 4" and 6" print engines, more flexible, usable and reliable than ever, and with exceptional connectivity. Designed to withstand the harshest of environments and water or solvent spills, these print engines come purpose-built to accelerate and streamline warehouse labelling automation.
Warehouse employees will also appreciate the lack of complex training needed. Navigating these printers can be done in just minutes after watching short videos on the 3.5" colour display screen – no QR codes to scan. The hardware can also be easily customised and supplemented if the premises in which it is used in have more specific requirements or safety procedures.
There's also good news for operators used to endless and seemingly unsolvable print head jams. The non-stick surface of the print engine prevents labels from sticking. Better still, the print head is also seamlessly replaceable without tools. And the use of a universal gearbox that supports all print resolutions keeps operator and inventory space headaches to a minimum.
Faster, more accurate and reliable than ever
Only fast, reliable and accurate automation technology can meet consumer demand while keeping workers engaged and productive. If employees have to fix non-stop hardware breakdowns or patch vulnerabilities in automation software, they are liable to miss KPIs, which would elevate stress levels even further. Machines capable of labelling thousands of items daily, while complying with industry-specific labelling requirements, are key to a smooth supply chain.
Fortunately, the S84NX and S86NX offer high-speed data rates and right-first-time tagging for even the most complex of business environments. The inbuilt RFID functionality also lets operators apply smart labels to cartons and pallet loads to streamline downstream stocktaking. And the smart Application-Enabled Printing (AEP) solution helps you print faster, simpler and more economically than ever, while boosting worker productivity.
SATO's AEP printers are usable without PCs – simply connect them to peripherals directly to print your labels and tags of choice. They include a programmable logic controller (PLC) to maximise productivity, which eliminates the need for special firmware and halves the time such work used to take3. Users can even install customised apps and print based on keyboard or scanner input, or conduct local or cloud database searches.
Automating for people, not profit

According to an Annual Warehouse and Distribution Centre equipment survey, nearly 60% of industry managers expect to upgrade their equipment in the next two to three years4. Within that timeframe, worker burnout as exemplified by the great resignation of late 2021 may come back with similar consequences. Implementing worker-friendly labelling automation technologies today is a great way to guard against this.
For more information on the new S84NX and S86NX print engines from SATO, contact your local SATO office and sales representative today.
References
YouGov via Strong Arm Technologies, 2022
ProGlove Survey, 2022
SATO Research, 2022
Annual Warehouse and Distribution Center (DC) Equipment Survey" - Peerless Research Group (PRG), 2022
Latest Events
All Events

26 Feb 2023 - 02 Mar 2023
In 2023, EuroShop will once again be the international highlight...
All Events