SATO print technology helps Dibal deliver 30% productivity gains for food packaging customer
19/06/17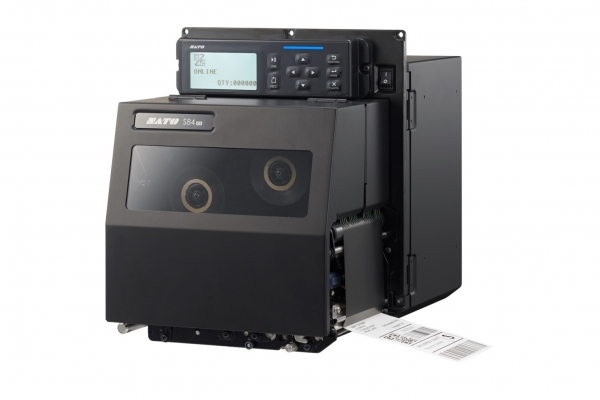 SATO (TSE:6287), a leading global provider of Auto-ID solutions that empower workforces and streamline operations, has collaborated with Dibal and Mecatronic to deliver 30% productivity gains for a European meat packaging operation.
To meet the meat producer's requirements, Dibal needed to develop a solution capable of labelling C trays of meat in real time with weight and price information at a production rate of 50 trays per minute. The information required printing a label 32.5 cm (13") long. The difficulty was that the only labelling option currently available had a throughput of just 35 trays per minute. Dibal therefore needed to find a new labelling solution that would not compromise its client's productivity, while being cost-competitive and highly accurate.
Dibal rose to the challenge of developing a bespoke labelling system by working collaboratively with SATO and Mecatronics. experts in auto-labelling systems. At the centre of their solution is SATO's S84-ex industrial print engine.
The S84-ex is designed for use in the harshest operating environment and can withstand vibration and static to deliver high quality 4" printed labels of up to 600dpi reliably and at speed (up to 16" per second). It features a two colour LCD and LED to help operators easily understand the status of the printer at a significant distance from the print and apply station. Downloadable printer settings, font and firmware via SD / USB allows customers to set up the printer easily without additional software tools.
For this meat packaging application, SATO provided a print engine that can print at 14" per second to meet the packaging line's output rates. The print engine also features a ribbon saver which reduces the use of the thermal transfer ribbon and helps to control ongoing operating costs. SATO also developed a special firmware to meet customer demands. The final result is a packaging line that can optimise the meat producer's production rates, delivers clear, high quality labels based on real-time information – and which has been delivered at a lower cost than the existing, slower-throughput labelling system.
Commenting on this success, Luis Porrua, Dibal's Export Manager, says: "We have a strong working relationship with SATO and their high quality print products combined with a creative, flexible approach to problem-solving is invaluable in delivering value for our customers. Working together, we have been able to improve our customer's productivity and deliver a cost-competitive labelling solution."
Laurent Lassus of SATO added: "Being able to understand this meat producer's requirements has given us valuable insights into the challenges being faced by the food manufacturing sector. We believe that the solution we developed here has much wider potential for delivering real production and cost savings in other packaging applications."
A short video of the Dibal meat packaging and labelling line in action can be viewed on our youtube channel
Latest Events
All Events

29 Sep 2023
In a world where nothing is certain anymore, data is our only...
All Events