Shedding Light on Dark Kitchens
04/09/19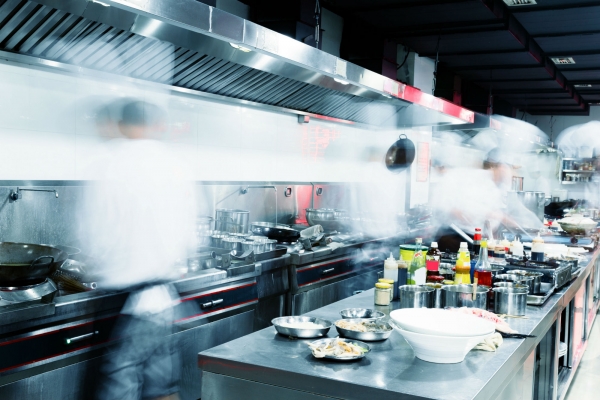 After rapid expansion over the last 5 years, the food delivery industry is still heating up.
Estimated to reach a global value of $161.74bn by the end of 2023, the online food ordering industry boasts growth forecasts of over 50% from 2017 and a compound annual growth rate of 9.8%, according to predictions in the Statista Global Outlook report. To put that into a wider catering context, home delivery across Europe is currently growing 10x faster than the traditional restaurant market. This boom in delivery and takeaway orders has shaken up the food and drink industry and altered the business model of countless retailers across the country. The foodservice trade is learning quickly to adapt to this change and take advantage of the emergent market. One significant element of this growth has been the introduction of dark kitchens.
After arriving on the scene in 2017, the dark kitchen, pioneered by logistics innovator Deliveroo, has provided a fascinating shake-up of the traditional dining industry that combines the quality of restaurant-prepared food with the convenience of home delivery. Also known as 'ghost restaurants', dark kitchens are an alternative to traditional brick and mortar restaurants that focus only on delivery order fulfilment. Food is prepared from one custom facility, prepared exclusively for home delivery, which cuts out a great number of overheads when compared to a traditional restaurant model.
The core concept behind dark kitchens is to expand the physical reach of businesses - to offer goods and services in areas where they do not have a physical presence, as well as to support new food service start-ups with a low-overhead option for production. The model has already shown great capacity for growth and is expected to continue its rapid expansion.
Despite being a novel and thus-far successful approach to the fundamental business practice of 'going where the market is', the dark kitchen model is not without challenges. There are key issues that the system faces which are less prevalent in dedicated restaurant facilities.
The Age of Information has given fresh agency to consumers, who share both concerns and recommendations amongst peers, particularly across social media. Today's buyers expect consistently high standards of food quality and safety, and delivered food is no exception.
This presents unique challenges for dark kitchens, which operate from premises that are a fraction of the size of standard restaurant facilities. Exacting food safety standards still apply, which for a production area of limited space can be a problem. What's more, the food for various restaurants is prepared by the same hub staff, and so must conform to the exacting safety and quality standards of each individual brand, above and beyond government regulations. This has the potential to make achieving food safety standards a very complex affair in dark kitchens, with many considerations.
How are visually similar ingredients with different purposes separated, stored and identified?
Where stock arrives and leaves at such a rapid pace, how can keen traceability be implemented to prove quality standards when required?
How can Hazard Analysis & Critical Control Point (HACCP) processes be monitored in such an environment?
In terms of production throughput, each dark kitchen hub has space for between five and ten restaurants to operate. With space being at a premium and particularly with the rapid product turnaround required, the logistical processes involved are of critical importance. It's vital that a robust tracking system is in place to keep track records of inventory and equipment to make sure the process stays efficient as it grows. What's more, as more hubs open across the country to serve new areas, dark kitchens require standardisation to ensure consistent quality and service every time, to truly deliver on that restaurant-at-home promise.
It may seem as though the challenges presented to dark kitchens would require an equally numerous suite of solutions, but the reality is that implementing efficient safety and logistical standards can be a simple process. Using the right combination of integrated hardware and software, businesses in established and emergent markets can benefit from the innovations in tracking and auto-identification technology that add real value to the supply chain.
Traceability plays a significant role in encouraging consumer confidence in the food production chain, particularly important for a new model of service, where the production cannot be seen.
One such innovation is the FX3-LX, a next-generation label printer from SATO. Functioning effectively over a wide range of industries and applications, the solution enables food and drink production outlets, such as dark kitchens, to intuitively and cost-effectively address the operational concerns of the contemporary market. The FX3-LX is a flexible and customisable printer that can adapt seamlessly to its environment and usage requirements, making it an ideal choice for dark kitchens and similar production facilities. Management reports can be quickly and efficiently generated to provide key information on labelling activity, such as the associated user, the brand, product details, time and date stamps and more, ensuring the clear flow of information required to safely and precisely operate the dark kitchen model is simple to achieve.
Despite the FX3-LX's compact dimensions, dark kitchen users with very limited space will appreciate the option to wall-mount the unit for added convenience. The printer is also intuitive to use, rendering the process efficient for users at all skill levels. The unit is operated via 7" TFT LCD full colour touch screen, meaning it's as simple to use as a modern tablet device. The touchscreen has been developed with fundamental practicality in mind and can be operated whilst the user is wearing regulation food preparation gloves. The FX3- LX is also splash-proof and benefits from an easy-clean antibacterial casing, making it an ideal choice for food production facilities where space is at a premium.
Notably, the FX3-LX features the powerful Application Enabled Printing (AEP) Platform, an on-board intelligence which enables customisation of the printer operation to significantly simplify labelling operations and ultimately reduce business costs. In essence, this gives the FX3-LX user full autonomy in printing, with the unit able to operate as an online or standalone printer.
The AEP platform gains process efficiencies through increased application stability and security, the ability to easily modify the application, and the expenses saved through the absence of a computer placement, ongoing maintenance and software licensing. For business models such as dark kitchens that slash overheads to increase the bottom line, the efficiencies created by intelligent printers bring tangible value to the production chain.
For the dining industry, the message is clear. The growth of dark kitchens shows no sign of slowing and hints towards a more streamlined direction for the industry. When dark kitchens are able to effectively leverage trackable and traceable solutions into their production workflows, the efficiencies created from these hubs demonstrate a considerable value proposition to suppliers and customers alike. Innovations in print and labelling are essential to ensuring that the fast-paced operations of the new model remain compliant and of superior standard.
Latest Events
All Events

09 Nov 2021 - 10 Nov 2021
SATO will be present at The Restaurant & Takeaway...
All Events