Compliance Management
Delivering compliance success for the automotive and transportation sectors
Automotive technology is continually evolving along with manufacturing processes and consumer needs and yet, with the customer front of mind, the need for safe, compliant solutions for the entire supply chain remains consistent.
With complex regulatory challenges faced by automotive suppliers, SATO knows that providing durable, reliable print and labelling solutions suitable for extended use, and a variety of environmental conditions, is important to the sector.
Labels are required to reliably communicate critical information across the supply chain through to the customer, meeting manufacturers' unique specifications and supporting the customer service experience. Get it wrong and the results can be damaging to the automotive brand's image and reputation.
SATO labels are specifically developed for challenging automotive and transportation environments. Withstanding a range of environmental and wear and tear challenges, from oils, grease, water or brake fluids to hot, cold or frozen conditions, with extensive experience in label customisation and real time printing demands, SATO specifies materials designed for each unique automotive application.
Meeting all national and international legislative compliance requirements, including ODETTE, AIAG and GM 1724, SATO delivers materials with proven performance in extreme conditions, to meet the needs of all supply chain requirements and testing regimes. Providing a comprehensive portfolio of label solutions, supplied on a global basis, SATO knows how to exceed manufacturer and government standards and expectations.
ODETTE labels compliance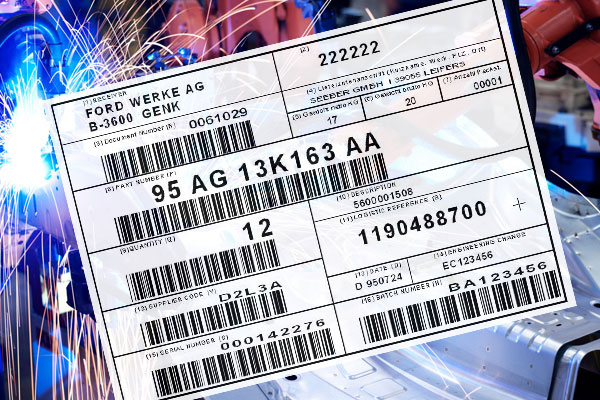 ODETTE is the 'Organisation for Data Exchange by Tele-Transmission in Europe', whose members include Europe's national automotive industry associations. As a pan-European collaboration and services platform working for the entire automotive sector, the organisation brings together supply chain professionals and technology experts to create industry standards, best practice recommendations and services to support harmonious logistics management, e-business communications and engineering date exchange around the world. Its aim is to improve efficiency and competitiveness in the European automotive industry.
Odette is officially recognised as a Code Issuing organisation in two of the most relevant and influential ISO standards in the area of unique identification: ISO 15459 and ISO 6523.
Accordingly, ODETTE has produced a set of label standards to reduce complexity and proliferation of identification codes causing inefficiencies in the broader automotive market. SATO, as a leading supplier of print and labelling solutions, supplies labels in accordance with the ODETTE standard to meet all industry identification and tracking needs and requirements.
Enabling automotive manufacturers and suppliers alike to identify goods via barcodes and RFID to connect the physical arrival of the goods to the ODETTE standard dispatch advice note, SATO ODETTE compliant solutions enable customers, whether located in Europe, US or Asia, to operate effectively, consistently and in compliance with the standard.
See SATO Solutions
Producing AIAG and GM 1724 labels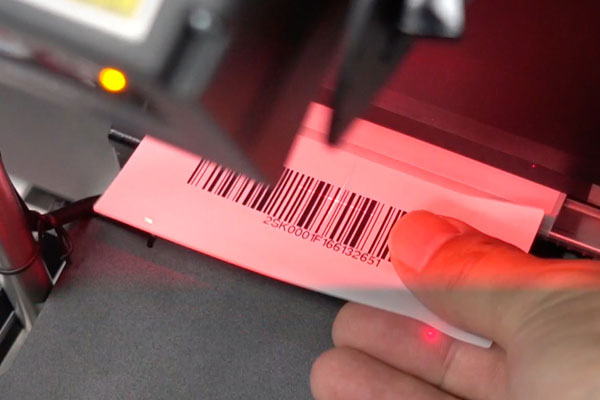 The Automotive Industry Action Group (AIAG) and General Motors (GM) have both set out label standards for automotive suppliers, to drive harmony and efficiency in the complex global automotive supply chain.
Working with NiceLabel, who is certified by both organisations, SATO offers a range of compliant label designs, as well as hardware and software to manage compliance and efficient real time label production.
NiceLabel offers a wide range of prepared label formats in adherence to both standards; with AIAG label formats available locally after installation of NiceLabel software.
The GM 1724 label standard precisely determines two types of barcodes - the two-dimensional PDF417 bar code and a traditional one-dimensional CODE128 barcode. The layout of the label is also defined. Compliant labels must include all required information, use specific fonts and include barcodes that can be scanned successfully at all points in the supply chain.
Not only does SATO provide a comprehensive portfolio of label designs to meet the AIAG and GM 1724 standards, SATO labels are specifically developed for challenging automotive and transportation environments. Withstanding a range of environmental and wear and tear challenges, from oils, grease, water or brake fluids to hot, cold or frozen conditions, with extensive experience in label customisation and real time printing demands, SATO specifies materials designed for each and every unique automotive application and compliance requirement.
See SATO Solutions
Tyre labelling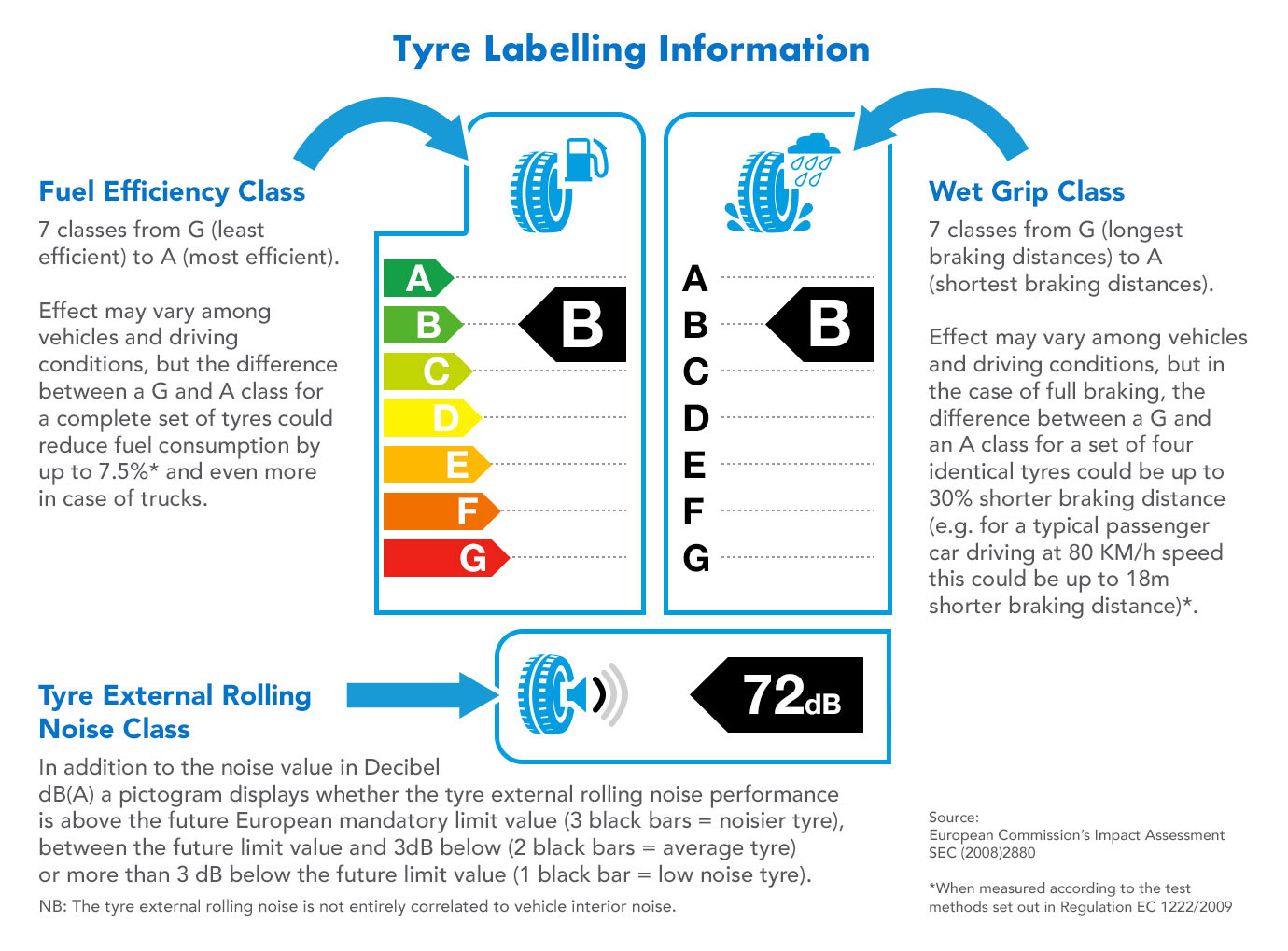 The European Tyre Labelling Regulation (EC/1222/2009) introduces labelling requirements for tyre manufacturers to ensure clear explanation of the tyre capabilities in terms of fuel efficiency, wet grip and the external rolling noise level to be expected.
The aim of the legislation is to increase the safety, environmental and economic efficiency of road transport by promoting fuel efficient and safe tyres with low road noise levels. The regulation also allows consumers to make informed choices about their tyre selections.
SATO provides a comprehensive range of label printing solutions to meet the need of tyre manufacturers and resellers ensuring compliance with the latest regulations. Designing label substrates with enhanced adhesion for performance and durability through to the consumer point of sale, SATO knows that consumers need to be aware that fuel savings and road safety depend on driving behaviours, tyre pressures and environmental conditions. SATO label solutions support crystal clear communications and meet all compliance regulations.
Tracking the life cycle of the tyre with RFID tagging
Tracking the location and performance of tyres from cradle to grave has been a challenge for tyre manufacturers since tyres were first designed. Particularly for the commercial vehicle market, optimising tyre performance through data tracking can provide powerful insight and competitive advantage in tyre design. But how do you RFID tag a truck tyre?
A typical truck tire has a hard life. With a metal casing and a weight of over 60kg, it is expected to withstand a variety of loads, extreme weather temperatures, from freezing to boiling, and variable road conditions. Typically, with continuous use, the tyre is expected to have a long life and is then retread after a long period of use.
Considering the tyre in its entire life span - the tyre is initially manufactured as a stand-alone product and moved into inventory at the manufacturer. It then moves through the distribution chain and is applied to a truck (or several trucks through out its life) and eventually disposed.
This lifecycle provides numerous points at vehicle servicing where valuable data can be collected on the tyre performance, status and quality that provides insight to both manufacturer and vehicle owner.
As a solution, the manufacturer can opt to cleverly incorporate RFID within the truck tire itself to enable data collection and value across the entire tyre lifecycle. Compliant with worldwide standards, the SATO RFID device used is designed to work for the entire tyre life span, enabling the manufacturer to receive valuable data on wear and tear, location, use and performance, providing a complete cradle to grave assessment.
The RFID integration is simple as the ergonomic design of RFID is developing quickly and is adapted for the tyre application. Reflecting the growing trend toward RFID use, SATO RFID solutions offer real time data and visibility for the tyre industry.
See SATO Solutions

Can't find what you're looking for?
Contact us