Intelligent Manufacturing
The delivery of intelligent manufacturing is based on the concept of being able to deliver real time optimisation of the entire supply chain on a continual basis. SATO, a leader in auto identification and data collection solutions for the industrial manufacturing sector, understands the opportunities available to manufacturers to drive efficiency, productivity and profitability through the adoption of track and trace barcode or RFID enabled labelling solutions.
Real time data entering into the organisations management systems creates agility, better decision making and faster response times to enhance quality, customer satisfaction levels and profit performance.
Across assets, processes, people and materials, SATO solutions help identify issues, errors and missed opportunities through the real time tracking of the entire supply chain allowing fast resolution and cost minimisation.
SATO provides a comprehensive portfolio of intelligent label printing hardware, software and consumables to meet every unique manufacturing environment backed by in-the-field technical support teams to support customers.
Advanced materials management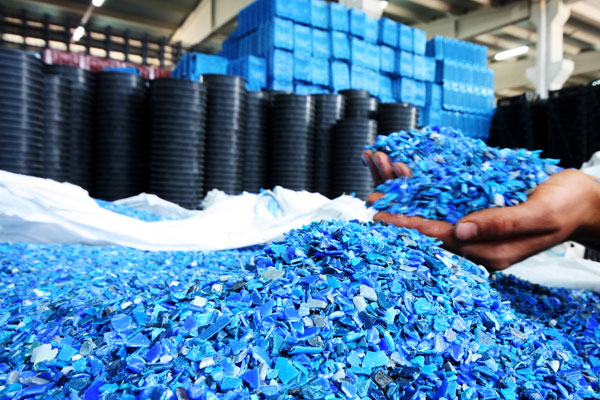 Advanced materials management enables the identification and tracking of materials received from suppliers right through to the end of the manufacturing process and in to distribution.
On the manufacturing shop floor, SATO bespoke manufacturing solutions help production managers to identify and keep track of raw materials, sub-assemblies and finished products across the manufacturing process. They enable organisations to have real-time visibility of processes and therefore efficient production control, while constantly improving quality and efficiency of the manufacturing process itself.
SATO printing solutions are tailored to each unique manufacturing situation - large or small, complex or simple - and can have various communication interfaces meaning its printers and devices can be easily integrated into management information systems, including wirelessly via secure IEEE 802.11 standard wireless communication.
Making mistakes in materials management can be costly. Automating the identification and tracking process from goods in to products out, right through the manufacturing process, provides real-time access to critical data throughout the cycle driving visibility and effective decision making.
See SATO Solutions
Small item marking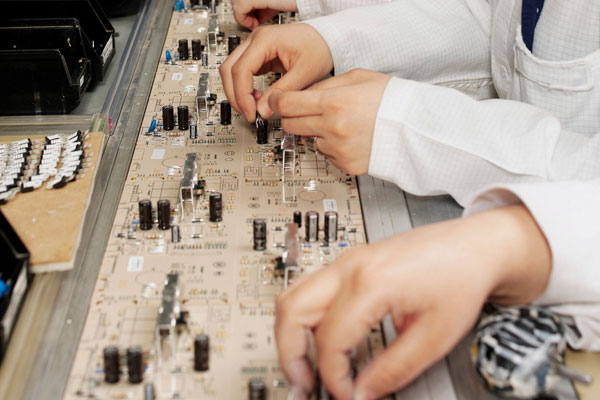 The marking and labelling of small items can be tricky and cumbersome, especially when the volumes required are high or erratic. For manufacturers of small items such as electronics or jewellery, SATO provides process resistant labels with small, well-defined text and images.
Small items pose a challenge to track and trace. They require high-resolution thermal printers, or very accurate automatic applicators, in order that they can be labelled correctly without significantly slowing down production speeds.
SATO, a leader in auto identification and data collection solutions for the manufacturing sector, understands the challenges presented when marking small items and produces a comprehensive range of tailored hardware and software solutions to support manufacturing companies with this requirement.
See SATO Solutions
Unique product identification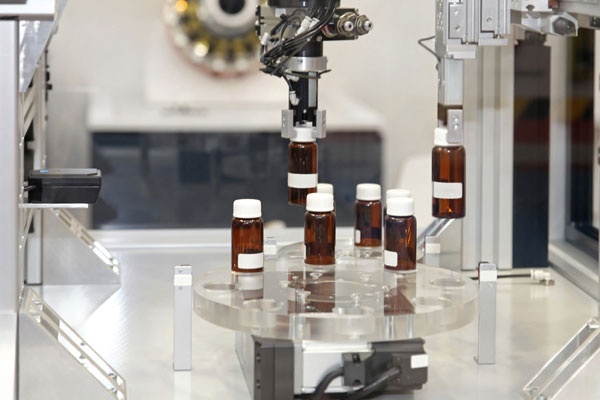 With strict legislation in place, in both the EU and US, for certain consumer sensitive manufacturing industries (including the pharmaceutical and medical device sectors) compliance with Unique Device Identification (UDI) legislation is a minimum business requirement.
Unique product identification means products can be identified by their model or serial numbers to provide specific information about the type of product, its suitability for a region, application or patient pathway.
Product identification labels contain variable data associated with a GS1 standard barcode or RFID tag. SATO, as a leading provider of auto-id and data collection solutions for the manufacturing sector, provides a comprehensive portfolio of intelligent labelling systems meeting the needs of unique product identification requirements. Including barcode and serialized labels, UL and CSA approved labels, as well as regulatory, safety and warranty labelling solutions, manufacturers can rely on SATO to provide expert guidance on compliance requirements, as well as completely tailored solutions to meet their needs.
See SATO Solutions
Intelligent printing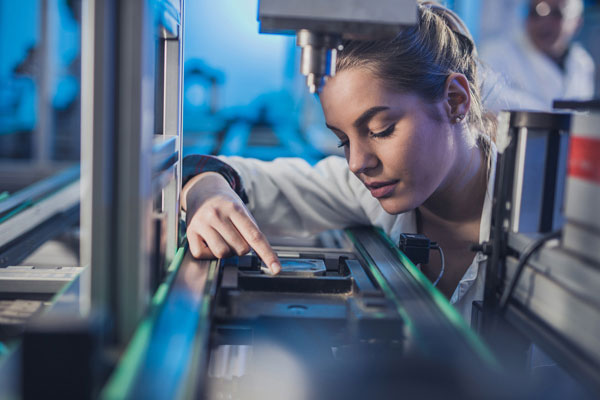 SATO Application Enabled Printing (AEP) technology is a powerful enterprise label printing platform that allows SATO printers to be used as a standalone print solution, eliminating the need for costly computers. Users can simply connect the printer to peripheral devices to query their internal database.
AEP enables customisation of printer operations to significantly simplify labelling in the manufacturing environment, thereby reducing business costs. The technology introduces the next generation of intelligent printing to solve the unique labelling problems of individual manufacturers and is easily adapted to suit in conjunction with SATO technical support and SATO partners.
Onboard as standard in printers such as SATO's industrial CL4NX Plus Series, SATO AEP can be extremely effective in manufacturing scenarios for on-demand printing with SATO's new mobile PW2NX Series.
Input devices such as scanners, keypads and weighing scales can be directly connected to enable faster, hassle-free label printing for the user, who is able to quickly draw from accurate, up-to-date data in any location.
This is particularly useful for supporting track and trace in the manufacturing environment. AEP technology can be used to build applications, which print data in the form of a 2D barcode after validating user input. AEP does this by comparing the data entered with the data stored in the business's existing ERP software.
Important to the user, SATO AEP applications are very user-friendly. Operator activity is prompted by a simple display screen sequence. Network or cloud communications are also available for database access and updates. By delivering simple to use applications that result in less operator training, AEP technology supports improved productivity.
See SATO Solutions
RFID in manufacturing - applications & benefits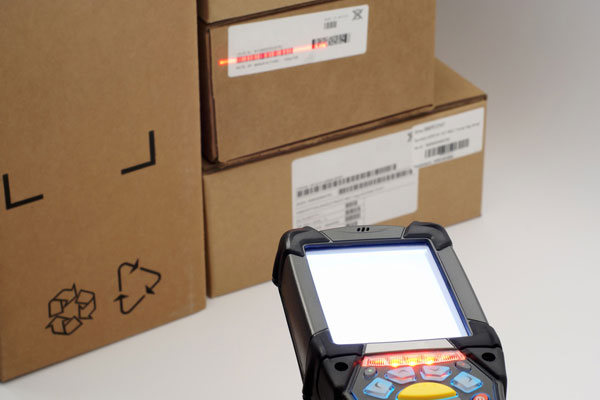 SATO delivers RFID labels into the manufacturing industry across the world, overprinted and programmed by the SATO print hardware range.
Work in progress today can be tracked and controlled for products ranging from carpets to glass fibre to steel girders - whether they are at the raw materials mining location, in processing plants or crossing oceans.
Due to globalization and increased competition, manufacturers are increasingly looking for ways to minimise costs and maximise productivity so as to meet customers' demands for faster delivery, higher product quality and service. Today, many manufacturers are turning to RFID to address these business challenges.
With a range of processes suitable for RFID implementation, SATO works with customers around the world to adopt RFID labelling and track and trace technology into their inventory and asset management, process control systems and across entire supply chains from goods-in to distribution network monitoring.
The implementation of RFID technology can fundamentally help manufacturers reduce operating costs, including labour cost optimisation, minimise production downtime and enhance productivity, eliminate materials management errors and discrepancies and improve efficiency of manufacturing processes from start to finish. Visibility and transparency become the norm in an RFID enabled supply chain allowing manufacturing managers to make effective decisions, on time and minimise waste, losses and inefficiencies on a continual basis.
See SATO Solutions

Can't find what you're looking for?
Contact us