Patient Safety
SATO printing solutions… the right medication to the right patient at the right time!
SATO understands the critical nature of patient safety in the healthcare environment and designs bespoke technology solutions to help providers ensure accurate real-time information is available on patients, samples, records and assets 24 hours a day.
From wristband and label printers to scanners and software, SATO offers a comprehensive portfolio of auto identification and data collection solutions to meet the many demands of the busy healthcare facility.
Patient Registration & Discharge
SATO believes that patients should be well taken care of from the moment they step into a healthcare environment. As such, as little time as possible should be spent on administrative paperwork. With this belief, SATO has created a total solution - hardware, plus consumables and services - to help minimise the registration process for healthcare facilities. SATO's solutions include patient ID labels, wristbands, bedside labels and visitor labels.
Admission, discharge and transfer
At the point of patient registration, a wristband is printed with information that is both human and machine readable, which can be embedded with any number of the patient's unique identifiers.
The use of linear and 2D barcode technology on patient wristbands enables Barcode Point of Care (BPOC) systems to verify patient identification before administering medications, processing diagnostic procedures or simply transporting the patient to another part of the hospital. Barcoding may also be used to create easily tracked print-on-demand forms at the point of registration. These may include patient fact sheets, consent forms and living will documents.
SATO printers can interface with virtually any hospital information system or admission system to print wristbands on demand at the time of admission, as well as integrate seamlessly with hospitals' Admissions, Discharge and Transfer (ADT) applications for easy-to manage implementation.
Patient Consultation
SATO's aim is to eliminate all manual recording of a patient's medical history. The common practice of recording a patient's condition manually, sometimes result in illegible or lost records. This poses a real and potential risk to the safety of patients in the medical environment. SATO's solution is to automate the storage and information upkeep process. This enables a more agile and systematic approach to the process and allows patients' records to be accessed more effectively.
Bedside labelling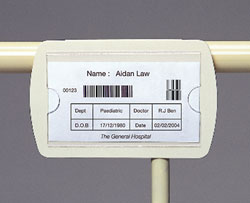 Patient safety is greatly improved by using the SATO mobile printing solution to appropriately label the sample collection container at the patient bedside. Clinical processes are subject to human error and the SATO barcode point of care provides critical double checks to ensure patient safety for applications such as bedside respiratory therapy treatment and dietary management.
Patient event tracking
SATO provides a combination of technologies to deliver effective patient event tracking. From antibacterial ID wristbands, available in a range of sizes that are soft, comfortable to wear and latex-free, to electronic scanning of high capacity barcodes to produce positive associations between patient, drugs and tissue samples, SATO ensures that accurate, real-time information is made available in the healthcare environment to manage data across the network of activity.
Accurate and clear label information can be printed beside the patient with date and time recording, eliminating the risks inherent in hand-written labels, and accurate drug labelling, tracking and dispensing systems can be assured.
Finally, SATO understands the importance of hygiene and cleanliness in patient safety. SATO provides a range of antibacterial encased printers that produce clear and resilient images on labels and wristbands while reducing cross-contamination and infections.
The Clinic Printing Solution
Healthcare clinics often use a broad range of printed materials from wristbands to labels. To cater to this, SATO knows they often have to procure printers for different uses and a wide range of consumables from multiple suppliers. This results in higher costs in administration, inventory management, complexity and maintenance from the multiple suppliers.
Over 50% of SATO healthcare customers indicate that the they would prefer to use a flexible, multi-purpose printer. As a total solutions provider and in response to these needs, SATO provides its clinic customers with a complete package, including the compact SATO WS2 printer that prints both patient wristbands and labels from one device.
This SATO full solution can be deployed through the various stages of the supply chain from clinical labs to pharmacies, medical check-up centres, clinics and hospitals. Delivering fast, efficient wristband and label printing, this total solution saves time and waste for all healthcare professionals. In addition, SATO can recommend a suitable scanning solution to ensure all barcodes are properly captured and processed during the care process.
The SATO WS2 barcode printer is compact and space saving and extremely easy to use, improving efficiency in the fast-paced clinic environment.
Supplied with the DT wristband, the full pack solution provides a one-stop answer to delivering patient identification safety with no hassle and no waste!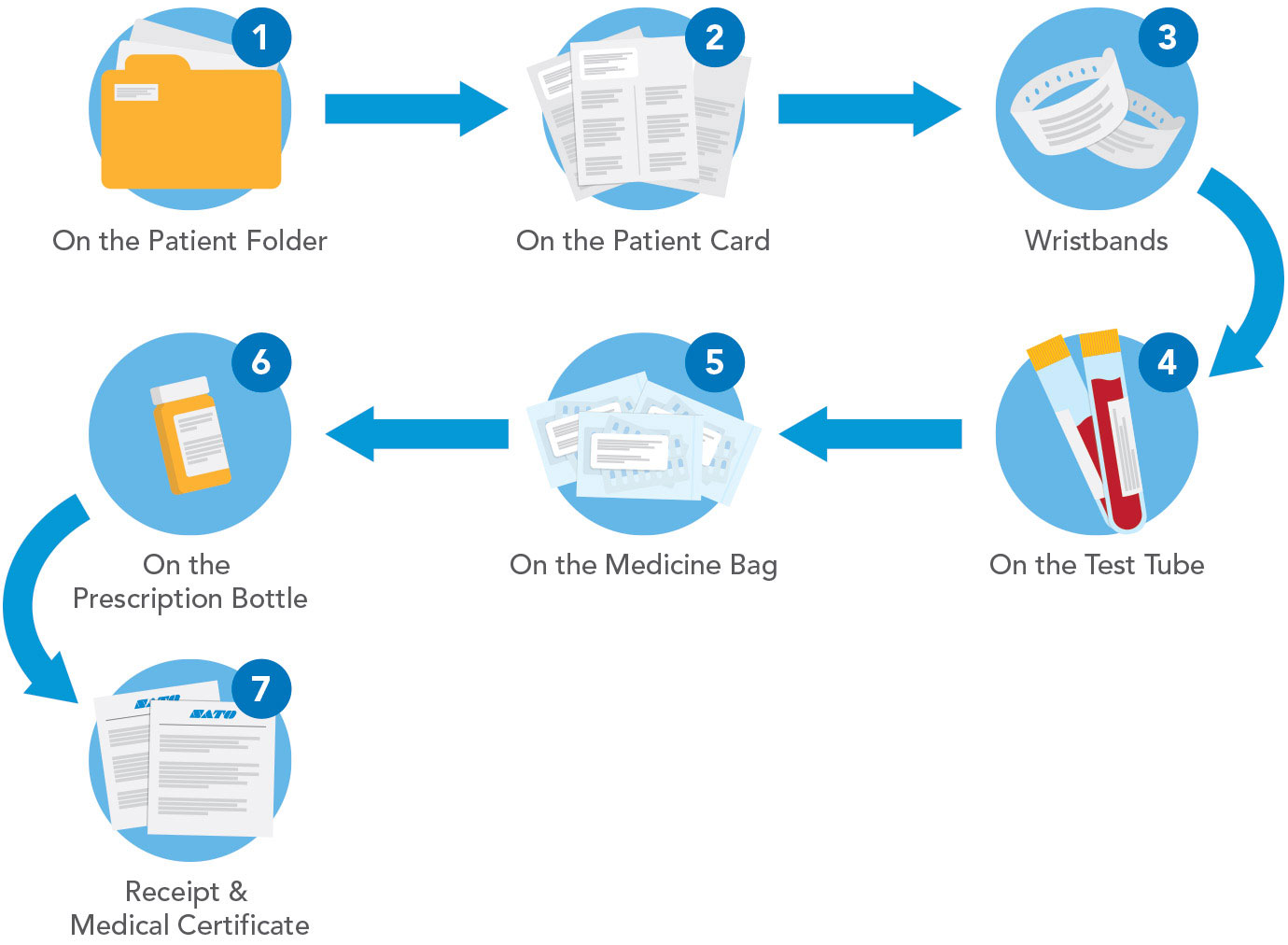 Blood transfusion safety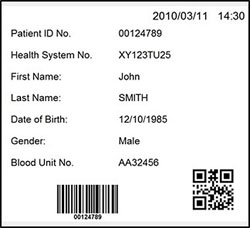 Blood transfusion, or phlebotomy, is the most common invasive procedure carried out and a well-documented risk area for healthcare workers, meaning the difference between life and death for patients. Matching blood or other samples to the wrong patient poses a serious risk to patient safety and can lead to misdiagnosis and inappropriate treatment.
Guidelines on the correct practice of phlebotomy are available, including the H3-A6 guideline issued by the Clinical Laboratory Standards Institute (CLSI) in 2007, recommendations issued by national societies or the guidelines on drawing blood published by the World Health Organisation (WHO) in 2010.
As a leader in auto identification and data collection technology for the healthcare sector, SATO solutions reduce the possibility of incorrect blood sample labelling in transfusion management from donation and collection to storage and transfusion.
SATO Blood Transfusion Safety System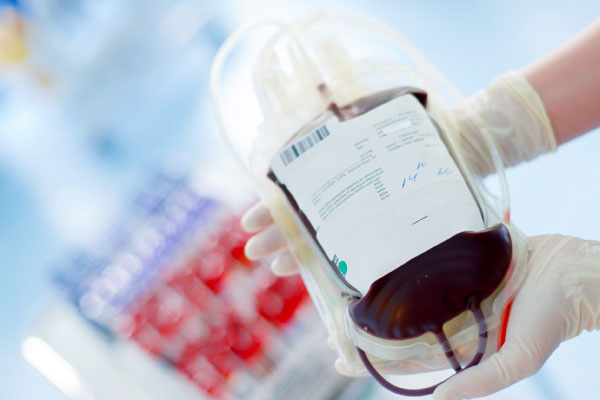 Blood transfusion errors often arise from either misidentifying patients when collecting samples for testing, or incorrectly matching the patient and blood just before the transfusion.
SATO offers an electronically managed Blood Transfusion Safety System that allows positive matching of patients and blood bags, incorporating SATO's 2D Barcode Patient Wristband, 2D Barcode Blood Compatibility Report and Bedside Scan & Print Solutions. The SATO solution confirms the match and enables donor-recipient tracking when used in conjunction with a secure blood fridge release system.
SATO Phlebotomy labelling security
SATO's specimen labelling application is supplied in combination with a barcoded wristband, providing identification information that is easy to verify, such as the patient name and medical record number, printed in both human and machine readable format.
With the SATO phlebotomy labelling application, labels are appropriately marked and data is coded to prevent sample identification errors. It has security features that automatically erase patient label data immediately after the printing of new patient data. The label designs fit most standard blood specimen tubes and labels are composed of materials designed to withstand cold storage temperatures as low as -40 degrees Celsius, as well as rapid thawing and centrifuge.
Introducing SATO FX3-LX
SATO's FX3-LX intelligent printer, with 7-inch TFT full-colour touch screen, is ideally suited to the fast generation of labels for blood tubes and other clinical samples. Secure labelling at the point of collection is now possible in healthcare locations such as hospitals and clinics that employ electronically printed patient safety wristbands.
Wristband data can be captured automatically due to the FX3-LX's USB-A interface, which allows peripheral devices (such as scanners and keyboards) to be connected. Quick and easy data capture translates to the output of high quality printed sample ID labels with secure patient details. Clear, accurate print is displayed, eliminating the risks associated with hand-written labelling. Accurate sample time and date stamp is an additional benefit.
If the organisation is using electronically printed patient safety wristbands and is now using a 2D barcode containing patient data, or is moving toward 2D barcodes on wristbands, the SATO system will complete the process security.
The FX3-LX label printer can be easily customised to perform the tasks required by any department. No PC or ink is required for operation and a full range of barcodes can be accurately printed for secure scanning at further identification process points.
Mobility is achieved by the internal, high-capacity battery. For other functions such as drug or food labelling the internal database can hold around 1 million items for immediate recall. The database is quickly updateable.
The antimicrobial printer casing assists in limiting the proliferation of bacteria.
Accurate and legible sample label data
Easy to use with fast data capture
Cuts down the time to complete the sample collection and identification
Increased patient safety
Barcode identification print capability
Portable and cost-effective
Eliminates unidentified or difficult to identify samples and subsequent re-testing
Pathology proven label materials in standard sizes to fit all tube types
See SATO Solutions
Specimen labelling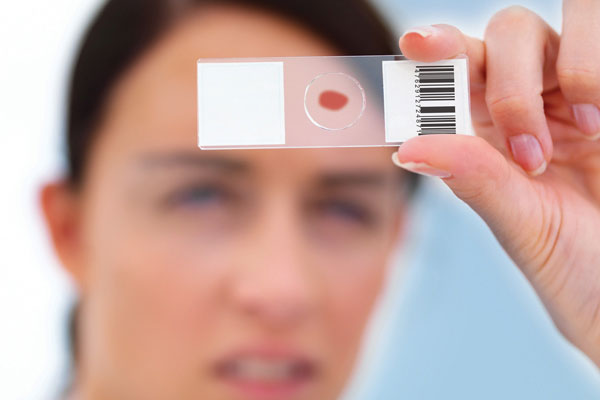 Along with inaccurate patient identification, specimen labeling errors have been identified as one of the most challenging tasks in laboratory diagnostics, occurring with a frequency of approximately 1.3% 1.
The major problems reported are specimens mislabeled (30% of cases), partially labeled (23% of cases), unlabeled (22% of cases) or incompletely labeled (21% of all cases), whereas illegible labels could be identified in 6% of cases. Whether or not these figures really reflect the worldwide scenario, it seems reasonable to conclude that healthcare is suffering from a patient identity crisis, so that identification errors should now be regarded as a public healthcare issue and one of the leading concerns in laboratory diagnostics.
With patient safety paramount in design, SATO, a leader in auto identification and data collection technology, provides a comprehensive automation solution to specimen labelling and management for the dynamic, fast moving healthcare sector.
Incorrectly labelled specimen samples can create a serious risk to patient safety and result in mistreatment or even patient death, if not taken seriously. Working with SATO, healthcare workers can automate the specimen management process to eradicate waste and costly errors.
Bedside labelling
It is clear that labelling specimens at the point of collection on-demand with a mobile printer improves patient safety and removes the risk of misidentification or mismanagement in the busy medical situation.
Being able to produce specimen labels at the patient bedside utilising a barcode to record patient identification information, including name and birthdate, satisfies a range of regulations and concerns in linking the patient, the specimen and the container in a timely manner.
By accurately identifying samples at the point of collection, healthcare workers can eliminate a leading source of errors; the more time that is allowed between sample collection and labelling, the higher the chance the information applied to the label is incorrect. For example, a recent study by The Valley Hospital in Ridgwood, NJ, USA identified 63 steps in its phlebotomy collection process where errors could potentially occur. Bedside labelling eradicated 44 of the steps and after implementation of a new bedside process, after six months, incorrect labelling of specimens was reduced to zero.
The SATO PW2NX Series Printer - the intelligent healthcare solution
The specimen label produced at the patient's side is a critical link in eradicating errors. SATO offers a barcode labelling intelligent mobile printing system - the PW2NX - to create automated on demand labels to meet the needs of today's hectic ward or clinic.
The PW2NX Series intelligent printer is perfectly suited to the fast generation of blood tube and other clinical label samples and can be easily customised to perform the tasks required by any healthcare department.
The PW2NX Series printer is extremely easy to use, can be worn on a belt or shoulder strap or mounted to a trolley and with no PC required for operation, mobility is achieved by the internal, high capacity battery. A full range of barcodes can be accurately printed for secure scanning at further identification process points.
The PW2NX Series printer can also be connected directly to the hospital wireless network, enabling draw orders to be sent directly from a laboratory management system or other clinic or hospital systems.
With speedy, durable, consistent, high print quality labels, illegible, handwritten or inconsistent labels are a thing of the past. Barcodes, graphics and text are printed cleanly and evenly, providing accurate identification and tracking information to enable the smooth running of the sample process from collection to storage and final disposal.
SATO labels work in concert with the printer and ensure high image quality and durability. SATO label substrates are designed specifically for hygienic hospital and clinic environments to withstand sterilisation, centrifuge, moisture, disinfectants, blood, xylene, hand sanitisers and storage conditions including UV light, chill and freezer situations, avoiding smudging, tears or misreading.
1 Journal of Medical Biochemistry - Patient and Sample Identification, Out of the Maze
See SATO Solutions
Pharmacy solutions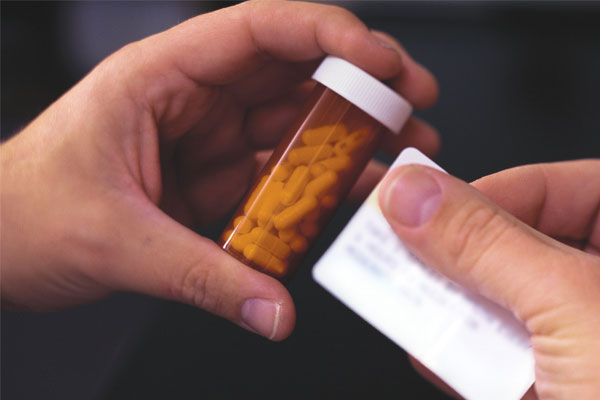 Accuracy of dispensing is critical to the complex pharmacy environment ensuring patient safety. Connecting pharmacy processes to control all phases of the medication management process - from medicines receipt to inventory management to dispensing and regulatory compliance - requires real-time visibility and strong data management capability.
SATO offers a portfolio of solutions for the pharmacist, from efficient shelf edge labelling to carton and bottle labelling, enabling real time auto identification and data collection, with both barcode and RFID technology solutions driving operational efficiency.
SATO solutions enable pharmacies to dispense the right medication to the right patients with confidence. Pharmacists will know the drugs that need to be prescribed instantaneously through the computer system, be able to find the correct drugs easily with an efficient shelf labelling solution and generate medicine labels easily with an antimicrobial cased printer.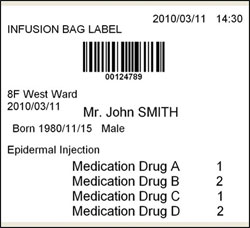 To complement the hospital pharmacy environment, SATO provides a range of wristbands for positive patient identification that ensure, in the process of administering medication, the nurse follows the physician's prescription and delivers the medication to the patient and documents the administration in the medical record. Avoiding errors, the nurse can scan barcodes on their own ID badge, the patient SATO wristband and the medication specific unit dose label prior to dispensing, to guarantee patient safety. The scanning solution ensures the patient and the medicine are correctly connected, as well as the authenticity of the healthcare professional involved.
See SATO Solutions
Sterilisation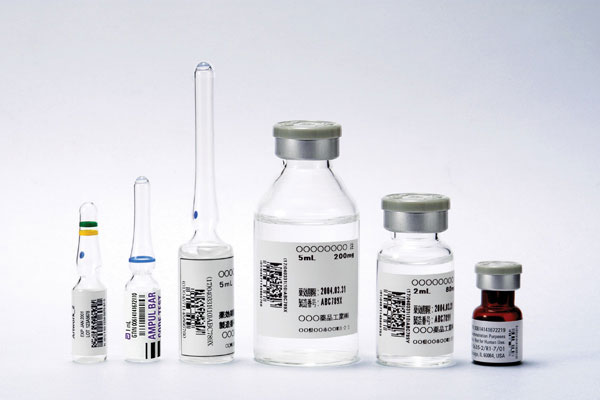 To ensure a medical device, instrument, container or environment is free of bacteria, fungi and viruses, healthcare workers frequently use sterilisation techniques to minimise the risk of infection and contamination.
Clean, sterile products are crucial to patient safety and accurate results in the diagnostic phase of medicine. SATO, a leader in label printing solutions for the healthcare sector, provides sterilisation labels that are compatible with both autoclave and ethylene oxide techniques for use with SATO printers and handlabellers. In addition, sterilisation indicator labels are available which incorporate a colour change technology to indicate whether the sterilisation process has been completed or not.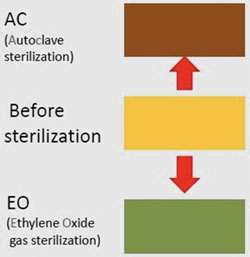 See SATO Solutions
In-patient meals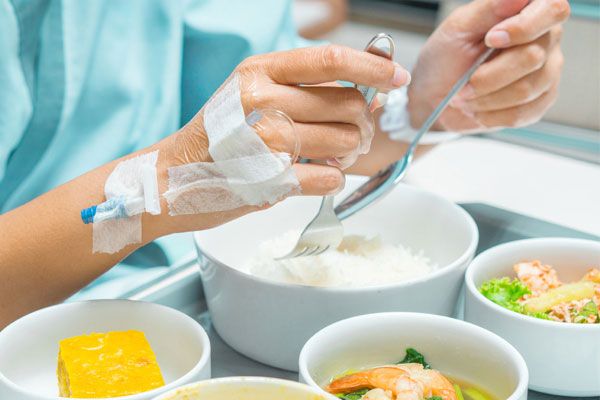 Ensuring food safety in the hospital kitchen is an important element of healthcare operations. With many patients on differing types of diet plans based on their medical condition, SATO has just the right tools for the complex hospital kitchen environment.
SATO has always been dedicated to the food management process and has extended its expertise to the food management process in hospitals kitchens. SATO is an expert in food expiry date management. Thousands of restaurants, hotels, and other food services around the world run SATO's DateRight™ solution to improve food safety and efficiency today.
With SATO's intelligent food labelling solutions, the possibility of delivering the wrong food to the wrong patient is greatly reduced. In addition, the patient will be able to know the details of the meal they are consuming: Food Item Name, Nutrition Facts, Date/Time of Preparation and the 'Best Consumed by' date and time are all available for label printing.
Together with SATO's Patient Wristband Solution, now robust matching confirmation between patient and prescript meal is possible.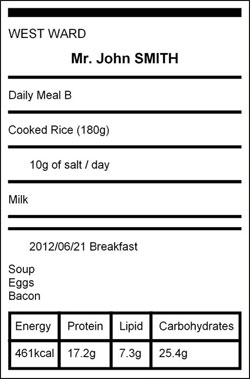 See SATO Solutions

Can't find what you're looking for?
Contact us