SATO Further Boosts NX Plus Series Portfolio with Release of CL6NX Plus
26/01/21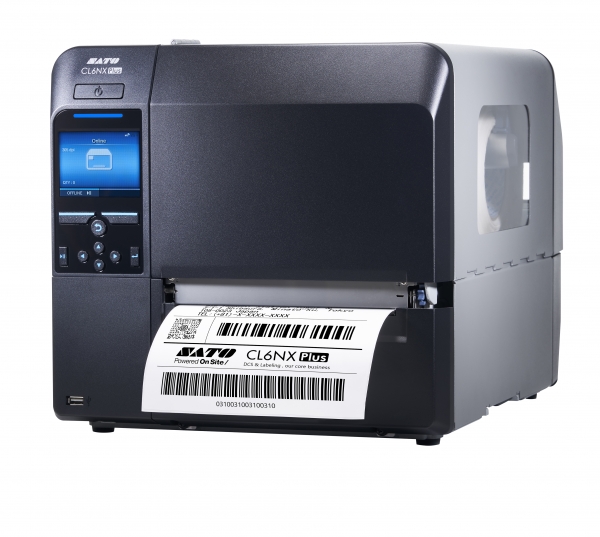 The global pioneer of auto-ID and labelling solutions, SATO, has today announced the launch of its new CL6NX Plus printer, a best-in-class thermal print solution designed to provide users with enhanced track and trace operations. The company has also boosted its NX series portfolio with the release of several updates for the CL4NX Plus.
Laurent Lassus at SATO said: "Businesses are increasingly harnessing the power of data to underpin traceability, enhance productivity and improve customer satisfaction, and the rise of IoT continues to drive transformation across many industries, including retail, automotive, manufacturing and transport and logistics. In response, SATO has created the CL6NX Plus to provide businesses with the on-site service they need to boost their efficiency significantly.
"We have worked closely with our customers over the last couple of years to listen to the market and understand exactly what they needed, said Laurent. "This has enabled us to create the CL6NX Plus, a truly pioneering labelling solution that addresses the needs of a range of industries."
The CL6NX Plus provides users with quick printing speeds of 10ips and can print to a resolution of 305dpi, ensuring the highest quality label production. The labeling solution also incorporates built-in third-party emulation software, which allows it to be seamlessly integrated into existing workflows without disruption to operations or productivity. Built-in Radio Frequency Identification (RFID) capabilities also enable brands to significantly boost track and trace efficiency.
"We're delighted to offer the CL6NX Plus to the market. It's a versatile machine that brings practicality and value to each stage of the supply chain, offering real-time efficiency gains," added Laurent. "The CL6NX Plus represents a giant step forward in high-resolution large format printing. For example, the solution is ideal for applications such as pallet labelling where quality, accuracy and speed are paramount."
The CL6NX Plus comes with built-in SATO AEP (Application Enabled Printing). This powerful onboard intelligence enables customization of the printer operations and is also compatible with SATO Online Services, PDF Direct Print, SATO­ App Storage and SOTI Connect1.
The innovative label printer represents the cutting-edge evolution of SATO industrial thermal printers and possesses a range of practical benefits. The introduction of an intelligent print-head, SATO RFID Analyze and higher printing precision make the CL6NX Plus a truly industry-leading labelling solution.
Alongside this launch, SATO has announced that its innovative CLNX Plus series can now utilize both 4" and 6" to support the new 802.1x for LAN security protocol, making it more adaptable for a wide range of environments. The update to the printer also includes built-in high frequency Radio-frequency Identification (RFID) capabilities and the option of purchasing a rotary cutter.
To find out more about the latest solutions from SATO, visit satoeurope.com.
SOTI is a registered trademark of SOTI Inc. in the United States and in other jurisdictions.