Manufacturing Efficiency
The food-manufacturing sector is highly competitive. Dealing with both large raw materials suppliers and powerful retailers, in an environment where speed to market for new brand launches is critical, controlling costs and efficiency for the food manufacturer is the key to sustainable profits and success.
To ensure overall operational efficiency is maximised and costs kept low, managing the flow of goods in food factories, from receiving raw materials to the shipping of finished products, demands accurate and efficient data management.
SATO, as a supply partner to the food industry, provides a range of services and solutions to streamline factory operations, increase accuracy of product management and minimise waste.
With networked, intelligent desktop, industrial and mobile print systems, food manufacturers can enable inventory control by type, lot, and expiry date via barcode and RFID technologies.
Eliminating manual recording, SATO data collection and labelling technologies can eradicate waste, prevent process errors and streamline factory processes to enhance operational accuracy and efficiency. Similarly human errors are prevented in selecting the wrong, expired or insufficient ingredients in formulations and recipes.
SATO supports food manufacturers to drive efficiency in legislative compliance management enabling forward and backward tracking and tracing of products through the supply chain with precision and speed. SATO supports customers to optimise processes, maximise efficiency and capitalise on resources and time to drive profitability.
Raw material management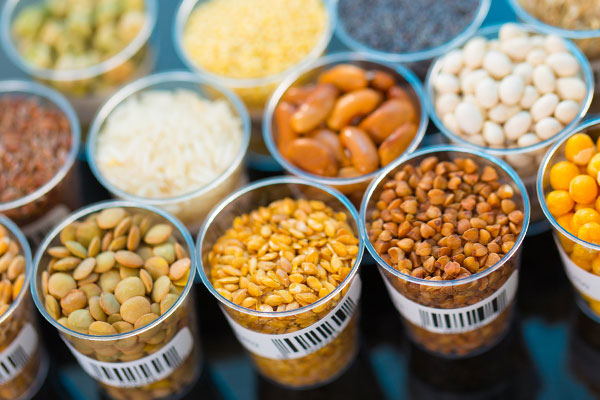 Raw materials management involves a number of often-complex identification, track and trace processes that require optimisation, if they are to deliver value and efficiency to the modern food manufacturing, distribution or retailing business.
On entry to the business, ingredients and materials require checking of lot numbers and expiry dates for accuracy and compliance before storage. Once in inventory, then the checkout process requires analysis of whether the 'first in, first out' (FIFO) principle is being correctly applied to minimise potential waste. Any discrepancies in the book and physical inventories must also be managed through regular stocktaking and controlling of the ingredients inventory.
SATO, a leader in auto identification and data control solutions, supports the food industry sector raw material management requirements with a comprehensive range of technologies to:
Manage inventories by type, lot number and/or expiry date
Search, view and print inventory lists based on user-defined conditions
Monitor ingredient inventory levels in real-time
Manage simultaneous inventory data updates from each stage of the manufacturing process - receiving, shipping, stocktaking, work in progress and disposal
See SATO Solutions
Manufacturing - control of preparations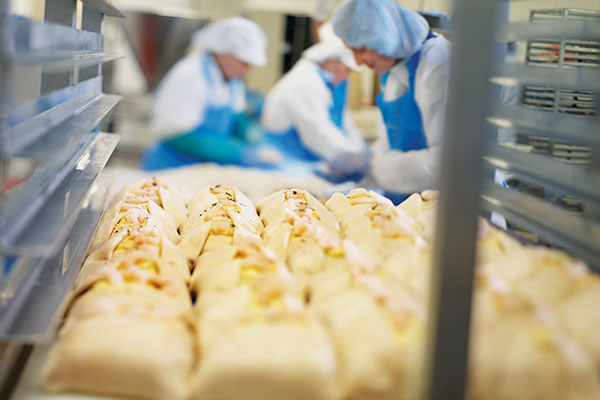 When preparing raw materials and ingredients for food manufacturing, for example, in weighing and mixing operations, a number of accurate data collection and labelling processes are required to optimise operational efficiency.
Initial weighing and dividing of ingredients, based on manufacturing instructions, requires lot information and batch sizes to be recorded. As packaged supplies are opened, use-by dates and unused portions must be managed. When dosing and mixing of ingredients is carried out, master data must be managed and instructions issued to the manufacturing line, along with recoding lot numbers and production data.
SATO, as a leading supplier partner to the food industry, knows that accurate recording of business critical information and labelling is key to driving efficiency in the preparation stage of food operations. SATO provides a comprehensive range of hardware, software and food safe label designs, to enable food manufacturers to:
Check who, when, what and how much of a raw material or ingredient is used for each manufacturing instruction
Record production output for yield management purposes
Issue finished product labels for product tracking and management
Scan QR codes of ingredients at the point of use to prevent errors and save corresponding data automatically
Weigh ingredients automatically by synchronising scales with panel computers
See SATO Solutions
Production management - inventory and shipping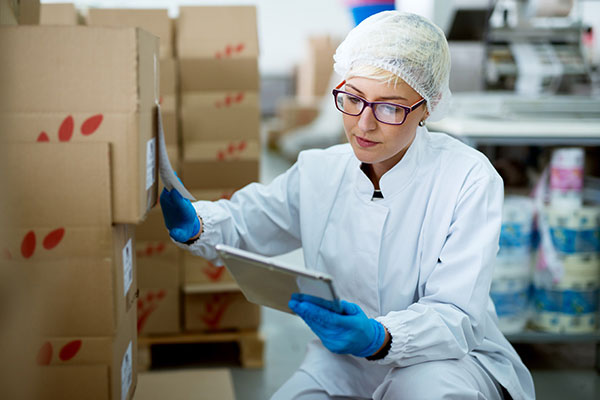 As a leader in food industry auto identification and data collection solutions, SATO understands the critical nature of efficiently planning and controlling product inventory to minimise costs and waste.
Having completed the food manufacturing process requirements, efficiently managing finished product inventory, location transfer and shipping operations can make or break the profitability of a business.
SATO provides a range of integrated, intelligent print systems to perform inventory checks, by location and lot, enabling effective product inventory control. When picking and assorting, products can be selected by shipping instruction and routed to internal logistics centers and customers efficiently.
SATO enables food manufacturers and distribution companies to:
Manage inventory by lot and expiry date after converting recorded production output into finished product inventory
Create picking lists for efficient product selection
Support further production planning and ordering based on inventory and production plans
Calculate ingredients quantities based on production plans entered by users
Check inventory levels to facilitate further ingredients ordering
See SATO Solutions

Can't find what you're looking for?
Contact us