Process Efficiency
Meeting the 24/7 supply chain efficiency and contract needs of automotive brands is a complex business. Managing the sheer volume of product assortment, often on a global basis, and ensuring on time delivery, in full, can challenge even the most sophisticated suppliers.
Today's automotive industry is therefore a pioneer in driving complete supply chain and production digitalization to support process efficiency. Adopting the benefits of the Internet of things (IOT), OEMs are integrating computers, mechanical and digital processes, objects, assets and people with unique identifiers creating the ability to transfer data across the network without human intervention.
SATO offers a range of customised intelligent solutions to meet the needs of the digitally integrated automotive supply chain and manufacturing process, for example:
The SATO AEP Platform allows the SATO printer to be used as a standalone printing solution, eliminating the need for costly computers in the production area. To print labels and tags, users can simply connect the printer with peripheral devices such as USB keyboard or barcode scanner or press printer keys to query the database.
Providing users with the flexibility to easily integrate SATO printers with other devices such as Programmable Logic Controller (PLC) for factory automation, without the need for any time-consuming customisation of a device or special printer firmware, SATO AEP enables the automotive industry to reduce costs, use less space, print without PC, improve productivity and limit unauthorised use, keeping the printer operation moving without interruption.
The SATO latest generation CL4NX Plusprinters, with dispenser, keypad and scanner, are specifically designed for the automotive production environment; customers can print labels without the use of a PC avoiding oils contamination and downtime challenges
SATO SOS, a cloud based system to connect SATO NX printers back to SATO enables remote preventative maintenance and error detection, without the need for on-site engineers. Through online connectivity, multiple printers' status and parts can be monitored to enable efficiency improvement recommendations
Software protocols including IGP firmware based on Printronix are specifically designed to comply with automotive standards
SATO delivers capability in real-time, on demand printing for automotive OEMs and their suppliers to manage the complex workflow, inventory and distribution demands of today's international automotive supply chain.
Traceability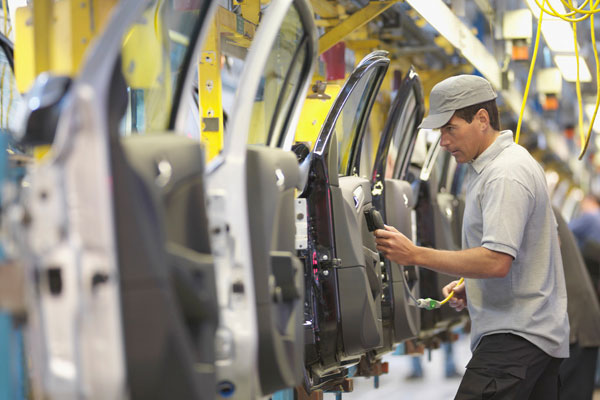 The global automotive sector is in a constant state of change. The new global economy, intensifying competition and emerging markets all drive constant review of production goals, supply partners and brand strategy.
With a keen focus on enhancing quality, reducing costs, optimising processes, and ultimately improving time-to-market throughout the supply chain, from paint to the body to the drive train, having strong traceability capability is key to competitiveness, compliance and success.
Traceability for the automotive industry is a process that documents the genealogy of the parts and subassemblies associated with a specific vehicle or range of vehicles. The type of information tracked will vary, but some of the more commonly collected information includes lot, part model or serial numbers, source manufacturer, origin, production time, location and date, components used in assembly, expiration date, etc.
All of this data can be accumulated and combined into a barcode and marked on the part. Barcode readers then decode the data throughout the part's lifecycle and reliably transfer the information into an Enterprise Resource Planning (ERP) software system ensuring full traceability for each part of a finished vehicle.
Having cradle-to-grave visibility of data is vital for the entire supply chain and has a wide range of benefits to anyone involved in the automotive sector. Traceability managed through barcoding and RFID labelling offers:
Accurate financial management of the process - costs and profits are clearly identifiable at each stage of the process
Process 'poka-yoke' implementation in lean manufacturing - structured error proofing through visibility of data
Ability to satisfy regulatory, liability & compliance requirements
Complete process optimisation to reduce lead-times including inventory and work in progress optimisation
The ability to minimise human intervention and therefore errors
Avoid rejects and recalls from defect parts and eliminate excessive costs of reaching the consumer where recall values can be astronomical
Anti-counterfeiting for high value goods
Brand image protection
See SATO Solutions
Supply chain visibility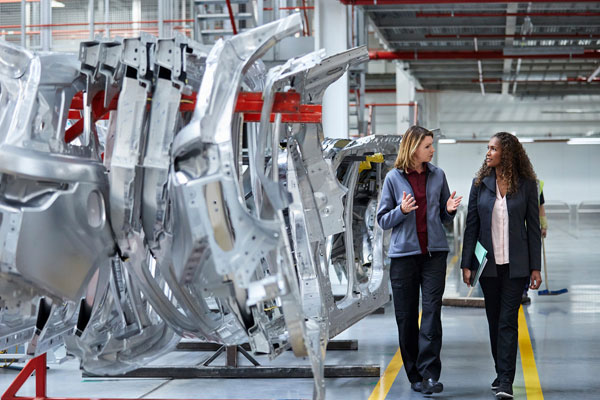 With 30,000 parts in a single vehicle today, counting down to a single screw, being combined with just-in-time lean manufacturing, the complexity of the automotive supply chain can clearly be imagined!
With inventory reduced to the absolute minimum at the production line site, automotive brands seek guaranteed supply, to contract, on time, every time and any hiccups causing line downtime is heavily penalised through pre-agreed supply performance agreements. As such, manufacturers and their suppliers require complete supply chain visibility to proactively manage the situation and avoid disruption to this sensitive production environment.
SATO, as a leader in auto identification and data collection solutions, understands the tension in the chain and provides a comprehensive range of on-demand intelligent labelling solutions, both barcode and RFID enabled, to enable 24/7 clarity on what is where, when and with whom. With supply visibility, production management can be finely tuned and aligned and customer lead-times managed more effectively.
Suitable for all automotive supplies - whether parts, plastic packaging, cartons, pallets, trolleys, roll cages or containers - wherever the product sits in the supply chain, transparency of compliance, cost, inventory and delivery performance is achieved. With easy identification of every component or material through the application of a barcode label or RFID tag the entire supply chain can be tracked and traced providing real-time business intelligence.
See SATO Solutions
RFID implementation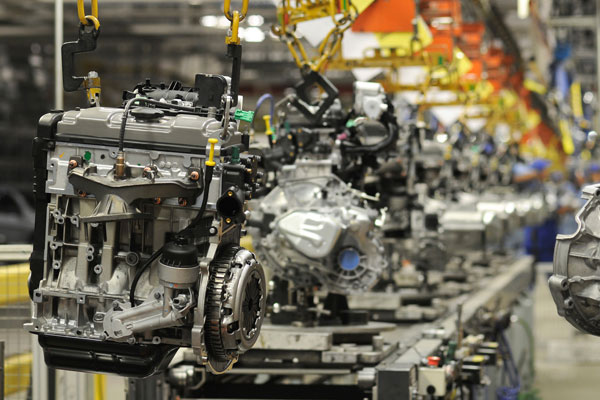 RFID is used in a wide range of markets around the world to enable transparency and monitoring of supply chains with a view to driving efficiency.
The world of the automotive manufacturer is a challenging one; the market place is extremely competitive, dynamic and margins are squeezed. Globalisation and competition is fierce and the evolution of the electric and hybrid car markets in western economies are creating market and supply chain challenges.
RFID is proving to be an essential technique in ensuring manufacturers remain competitive and can drive out costs and waste in their supply chains.
Whether goods-in receiving at the beginning of the process or shipping of products at the end, RFID can be applied to tag individual parts and materials to enable automated receiving at the next step in the supply chain. Item data can be synchronised with ERP and business information systems to ensure accuracy, avoiding errors, mistakes and incorrect shipments. At the point of shipment, dock doors can also have RFID readers to avoid products leaving the site incorrectly and monitor products and assets around a site.
To manage non-conforming parts and materials, RFID tracking systems cut processing times down by providing visibility of the problem, data and analytics for quality, finance operations and other key stakeholders to resolve the affected lot. Inventory and materials demand is managed quickly and cost recovery is faster.
RFID can be used to smooth the production flow to keep materials in the right place, at the right time and avoid downtime. With complex global supply chains this also means integration of parts from multiple sources can be managed more effectively and waste minimised.
Where high value or high security vehicles are being manufactured, RFID solutions from SATO can ensure non-standard components are tagged and verified to avoid counterfeiting, as well as enable complete security management and compliance.
In post production, RFID tracking can locate any vehicle, even in huge fleets, through the unique RFID serial number associated with the vehicle VIN number and the car's manufacturing history. The transparency associated with the process enables rework to be completed correctly and finished cars supplied to market on time.
RFID from SATO enables global asset and supply chain tracking to create a new level of automotive industry efficiency, keeping costs and downtime low and brands competitive.
See SATO Solutions
Quality assurance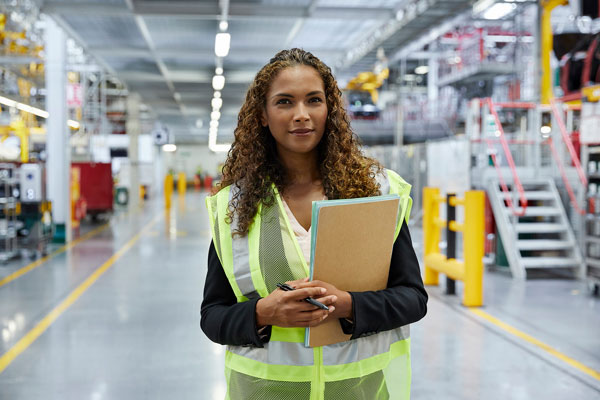 In today's competitive automotive market place, having an integrated and structured approach to quality management is key to sustaining costs, brand image and reputation. With complex, global supply chain networks however, this can be easier said than done if not supported by intelligent business systems to manage quality compliance.
SATO, a leading auto identification and data collection solutions provider to the automotive industry, knows that quality assurance involves a combination of process and product management backed by audits to address the entire supply ecosystem. To deal with supplier management, product conformity across the lifecycle, factory quality and shipment inspections, end-to-end data management solutions are needed to drive standards, compliance and safety.
Customer safety must always be the primary concern of all vehicle manufacturers. However, shoddy workmanship or parts can also be extremely damaging to the business performance and reputation if not managed effectively. With a range of international, national and industry regulatory requirements to comply with, manufacturers need reliable and consistent quality assurance processes in place.
SATO provides its automotive customers with a comprehensive portfolio of intelligent industrial, desktop and mobile label printing solutions, supported by the latest software and automotive compliant labelling substrates, to track and trace the entire supply chain from start to finish. With a single vehicle incorporating up to 30,000 parts, quality control requires efficient identification and tracking processes, only delivered with the latest thinking in barcode and RFID technology today.
With complete asset tracking capability and connectivity solutions, SATO enables visibility and traceability of the entire supply chain process ensuring quality, security and peace of mind for manufacturers.
See SATO Solutions
Asset & facility management
Maximising flexibility for 21st century vehicle production with SATO Visual Warehouse™
In responding to the dynamic and highly competitive nature of the automotive market, manufacturers are continually seeking new strategies to grow market share, while at the same time minimising costs and maximising efficiency. Much of this effort today is focussed on creating flexible production capability to reduce the constraints of the traditional fixed infrastructure scenario typical of the automotive industry.
Adjusting traditional workflows in production and logistics to respond to the needs of new globalised distribution, vehicle tiering (economy, mid, premium), different vehicle types (driverless, fuel, electric or hybrid), vehicle personalisation and customisation demands from customers, as well as manufacturing smaller batches to respond to small consumer segments, are all typical demands now placed on to the industry.
Automotive brands need to respond quickly to market changes while continuing to optimise capacity utilisation in order to avoid losses. The key strategy being adopted is flexible, self-organising production and logistics strategies based on real time location systems (RTLS), such as the SATO Visual Warehouse.
Providing the capability to locate all relevant objects within an accurate precision of 30 centimeters, assets or goods on a large manufacturing site, SATO solutions bring the IOT to the automotive sector; seamless connectivity with real time data to create business intelligence at a level never seen before.
Rather like utilising GPS to navigate roads, SATO Visual Warehouse is GPS for the automotive warehouse and production facility. Acting as an internal positioning system (IPS) creating 3D visual mapping of a facility, SATO Visual Warehouse technology can be used both indoor and outdoor, delivering precise real time location data of objects, quickly and with accuracy.
SATO Visual Warehouse™ can locate objects with greater precision - within a 30 cm margin of error - than conventional locator systems, with the help of wearable devices that navigate the worker to items using three-dimensional maps and voice guidance.
The system facilitates receiving operations at warehouses that manage inventory in random locations, to improve efficiency in inventory management, speed up shipments by instructing the shortest route, and realise inventory/shipping management suited to the characteristics of each product.
This solution combines SATO's expertise in Auto-ID technologies such as barcodes and RFID with 3D location and route map display technology. Developed specifically for the logistics and distribution industry, it features the use of 3D images, video and audio over a wearable display device to free the hands of workers on site and improve efficiency in receiving, inspection and shipping work in manufacturing supply chains.
Also with a remote support feature that instructs the shortest route to a product with easy-to-understand voice guidance such as 'two more meters to your desired product', 'turn right at the next aisle' or 'changes were made to the type and volume of products to ship,' the system helps with labour savings for shipping and improves the quality of operation, independent of worker experience level.
Conventional logistics procedures using paperwork are prone to inefficiency and errors, with the precision of work varying from person to person since less experienced workers have to check procedures as they go about their work. SATO Visual Warehouse, when integrated into the logistics infrastructure of a logistics center, tracks the precise location of stock using locator devices set throughout the warehouse and UWB tags that workers wear. The system manages location data (coordinates) of products received to navigate workers effortlessly to where a specific product is stocked. With this technology, automotive supply chain networks and manufacturing facilities can now run a floating inventory location system that otherwise would pose challenges for receiving and shipping procedures.
See SATO Solutions

Can't find what you're looking for?
Contact us