Delivering Process Efficiency
The ability to manage goods effectively via efficient processes is key to the modern manufacturing environment. Over 65% of UK consumers, for example, expect retailers to find and then deliver products from wherever they are located in the supply chain1.
This puts mounting pressure on all businesses in the chain to return accurate data on their operations at any one time. Today, manufacturers who can quickly check the status of and act on the challenges of multiple operations stay ahead of the game in delivering goods in full and on time.
SATO's market leading auto identification and data collection technologies are specifically designed to meet the unique processing needs of manufacturers across a broad range of sectors, from pharmaceutical to food products.
With a range of support levels available for ease of integration and maintenance, flexible SATO solutions can be effectively applied to solve the challenges of businesses across the globe.
1 Selling the Store. Consumer and Retail Research 2018: UK, Manhattan Associates
Goods-in receipt management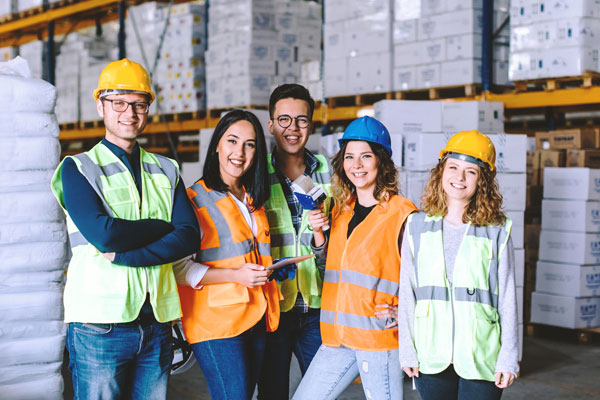 Getting the incoming goods process wrong in any business can spell disaster for the entire manufacturing workflow. Ensuring the right materials are received, and accurate storage processes are enabled, ensures accurate downstream picking and selection from the storage area and warehouse can happen.
Incoming goods and materials need to be appropriately labelled to identify materials at a later date. Received goods can then be assigned to storage, item default location or issued directly to the shop floor. Utilising the latest mobile intelligent solutions from SATO, operators can print accurate, clearly legible labels at the receiving point. With flexible design, a SATO printer can be mounted on a forklift truck, worn on a belt or hung on shoulder strap, leaving the employee to focus on the job in hand.
SATO understands how to enhance manufacturing efficiencies and drive productivity.
The remote printing capabilities of SATO barcode and RFID printers save time and money. There is no pre-ordering of pre-printed labels, receiving labels can be printed on-demand, also removing purchasing and administration burden. There is no need to collect labels from a central location and manual, hand written labels are a thing of the past.
See SATO Solutions
Picking and assortment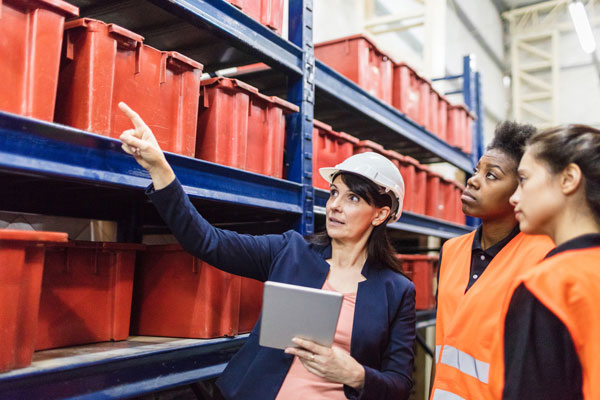 A typical picking scenario in a manufacturing environment involves a work order from the shop floor being issued to the storage area to retrieve materials from inventory.
Using SATO technology, the operator scans a location label to ensure the right item from the correct location is being selected and by scanning the item, the operator ensures he or she has selected the correct part. Reusable containers are used for picking and material handling operations, which are identified with barcode or RFID labels to enable automatic tracking. Inventory labels are printed on-demand to replace any damaged labels or to indicate significant changes in quantity from the records. The operator can then access the inventory location on a forklift truck with a mobile printer mounted to the truck or can use a mobile, trolley or cart mounted printer. Having selected the goods, the entire process has been accurately tracked and central servers have updated the activity log.
Efficient picking and assortment relies on accurate, up-to-date information at all times on the availability of stock and latest demand requirements. Operators wanting to deliver enhanced supply performance to their customers need high productivity, reliability and cost effective operations in the warehouse.
SATO, a leader in auto identification and data collection solutions for the manufacturing sector, understands this and designs integrated rugged and tailored solutions to meet these needs.
See SATO Solutions
Managing work in progress (WIP)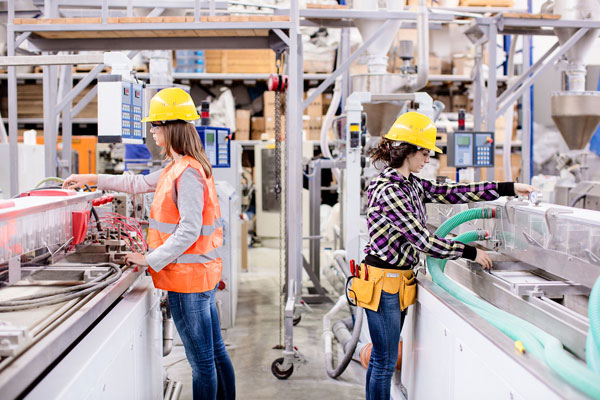 The total value of materials in work in progress (WIP) can be significant. Inventory at each stage of the manufacturing process can build if not clearly monitored and accurately recorded, tying up valuable cashflow and increasing the risk of errors and waste.
SATO, a leader in auto identification and data collection solutions, understands the need to efficiently manage the production process using track and trace technology.
Efficient WIP process management involves the application of WIP labels to uniquely identify each unit of inventory at the different stages of production. This enables users to track and trace parts, materials or ingredients used in the manufacturing process, indicating what was consumed in assembly or formulation, what was set aside due to a quality issue or defect and which goods have passed through that stage of the process.
As parts become assemblies, or ingredients become mixes or formulations, additional barcode or RFID labels can be added to identify and track the process by the new identification code.
With a comprehensive range of intelligent barcode and RFID label printing solutions, with complementary software and accessories, SATO has the knowledge, experience and technology to support every unique manufacturing scenario.
See SATO Solutions
Materials management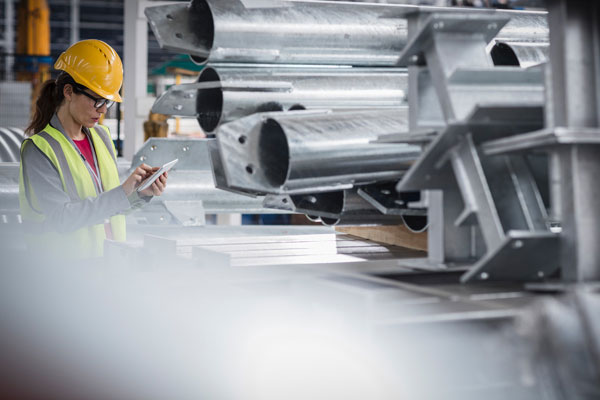 Modern materials management involves manufacturers applying a number of key processes to their business: effective demand forecasting, efficient warehouse flow, appropriate inventory turns and stock rotation, cycle counting and process auditing.
Truly understanding the market and business environment is paramount to being able to manage these processes effectively. However, timely inventory status information is critical to a manufacturing business and can make the difference between success and failure. Shrinkage, loss and misuse, as well as lack of visibility of where and how materials are being used, can result in excessive costs and the inability to service customers.
SATO, a leader in auto identification and data collection solutions for the broad manufacturing sector, understands the complex nature of efficient materials management. It works closely with its customers to understand their unique needs and requirements to tailor intelligent solutions to their challenges to drive performance and profitability.
Working with SATO solutions, employees can transfer, issue, count and adjust inventories based on information in real time thanks to data stored on barcode or RFID labels and tags eliminating paperwork and manual data entry. The location site where materials are stored can be identified quickly with labels indicating location codes. Barcode and RFID technologies improve accuracy as raw materials data helps identify the right materials are stored in the right location and sent to the right production order.
From mobile warehouse inventory management systems to RFID tagging of goods, SATO understands how to enhance manufacturing processes adding value and efficiency to any situation.
Streamlining inventory management processes to achieve more from less, optimising labour and removing human error, is core to SATO's philosophy.
See SATO Solutions
Warehousing and distribution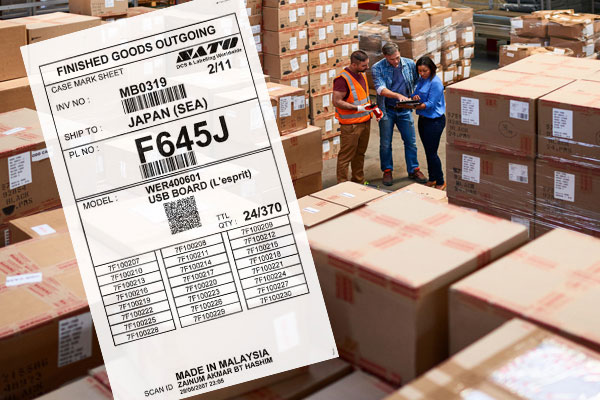 From cartons to containers, packs to parcels, control of shipping processes demands accurate, real-time, measurable data to verify processes have been accurately applied, goods are going to arrive in the right condition at the correct destination and customers are going to be satisfied.
Ensuring accuracy and timeliness of order fulfillment means manufacturers using the latest labelling solutions to ensure finished goods reach their next destination.
Applying barcodes or RFID tags to finished goods means tracking and tracing of the shipping process can be accurately recorded. Scanned on picking and then entry to the shipping department, once the order is confirmed, the inventory check can be completed along with matching the order request to the article. Compliance and regulatory checks can also be carried out for the carrier and master labels for palletised goods can also be printed on demand.
Automation of the final shipping process minimises human intervention and error. Elimination of manually created documentation and hand written labels enables timely verification of goods being in the right transport, on time and heading to the right destination. This drives productivity, as well as avoids loss of time in unloading and reloading of transportation.
SATO, a leader in auto identification and data collection technology for the manufacturing sector, has a range of solutions to add value and drive productivity in the shipping environment. SATO's mobile, desktop and industrial printing solutions, scanners, barcode labels and RFID tags provide a comprehensive capability to provide manufacturers with the automation required to effectively track and verify shipping and return processes.
See SATO Solutions

Can't find what you're looking for?
Contact us