Food Labelling
Today's modern food manufacturing, distribution and retail organisations are fast-paced business environments subject to significant legislative control from a food safety and traceability perspective.
Needing to meet stringent guidelines on food safety, whilst at the same time driving operational efficiency, businesses require tailored, integrated auto identification, data collection and labelling technologies to support their business efficiency, management and compliance needs.
SATO food labelling solutions are designed to meet the needs of start up companies right through to large, multinational organisations.
With an expert team on hand to design bespoke systems tailored to each unique food business requirement, SATO understands the careful balance required in meeting food safety and compliance needs, alongside driving business operational efficiency and stand out label design for sales effectiveness.
Efficient automation of customised label printing, with barcode and RFID technology for track and trace capability, SATO is the partner of choice for the food industry.
Enabling consumer choice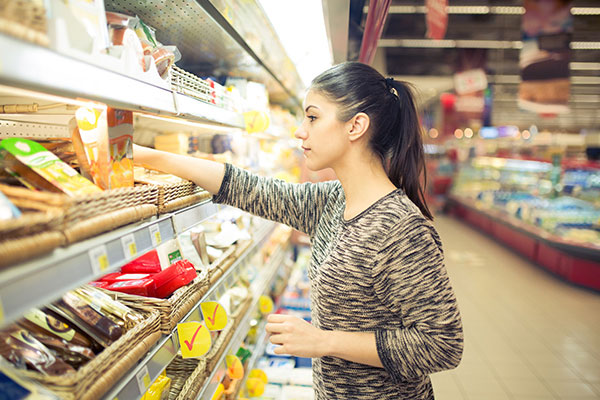 Whether looking at the infamous Generation Y and Z consumer or to the aging population of Baby Boomers, it's clear that health and wellbeing is important to these consumer segments and affects their food shopping behaviour.
Food manufacturers are responding with 26% of new food and beverage brand launches in 2017 making 'clean label' claims in their marketing. There is also an increase in demand for functional foods, allergen sensitive formulations and incorporation of ingredients and additives into food and drink products that can modulate the human microbiome. Sustainable, bio, sugar free, low calorie, organic… the list goes on and food manufacturers and retailers need to empower consumers to make easy, educated product choices.
Modern labelling design needs to stand out on the supermarket shelf, but also needs to comply with food safety regulations regarding nutritional, dietary, formulation and use information. Clean and easy to read labelling is key and yet the volume of data now required to comply with the legislation can often lead to crowded, small font, difficult to read label design, frustrating the consumer and limiting their ability to make educated choices.
SATO labelling solutions support the food industry to meet all of these challenging requirements with accuracy, efficiency and food safety front of mind. Incorporating AEP technology, SATO supports its customers with effective label design, as well as the technology to streamline operations and win the battle for market share and consumer loyalty.
See SATO Solutions
Food labelling compliance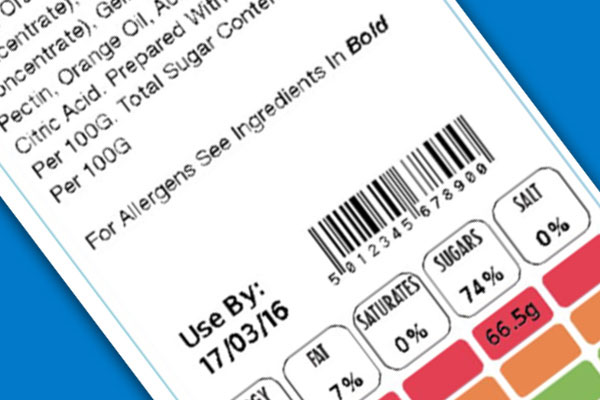 Whether baby milk, butter or bacon, food and beverage labels must comply with the latest European labelling regulations. Implemented in 2014, Regulation (EC) 1169/2011 mandates that all companies that manufacture, sell or import food into the EU must comply.
Compliance means a broad range of accurate data must be included on the label, including the name of the food, list of ingredients and net quantity, as well as nutritional, allergen and use information.
Fundamentally the information must be:
Legible, easily understood and visible
Not mislead or confuse the shopper
Not attribute benefits, effects or therapeutic properties to the product that do not exist
To find more about the latest up to date EU food labelling regulations, please visit the European Commission website
For food manufacturers and retailers, SATO delivers a comprehensive range of intelligent, easy to use, labelling hardware and software solutions, compatible with the food production and retailing environment. This is complemented by extensive technical support on labelling systems integration, regulatory compliance and effective label design.
From food safe label substrates to hand labellers or mobile printers, SATO, a leader in food and beverage labelling technology, works with its customers to manage labelling compliance needs, whilst helping them to deliver enhanced efficiency and consumer satisfaction.
See SATO Solutions
Labelling for the digital savvy consumer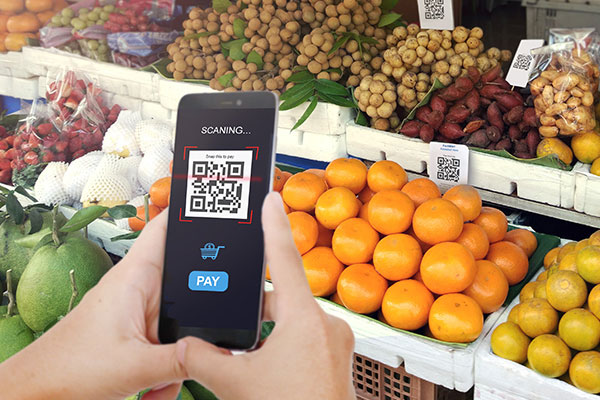 The advent of e-commerce has created mass disruption in the food industry sector causing brands and retailers to reconsider their business models, as well as food product packaging and labelling, to meet their new digital consumer's demands.
Reinventing label design is core to many brands' new marketing approaches; integrating smart technologies, apps and barcodes to enable innovative complementary digital campaigns to deliver new levels of brand stand out, consumer engagement and loyalty.
No longer do brands and retailers rely on the 'first moment of truth'; the term coined by P&G Inc. several years ago to describe the 7 seconds consumers take when shopping to select a product. Brands are now considering the impact of the 'zero moment of truth', the internet browsing many shoppers complete before purchase, as well as the 'second moment of truth' on opening and consuming the product.
Customised, high-impact smart labelling is therefore key to sales both online and in the traditional channels, enabling unique marketing options for today's digital-savvy brands, as well as driving brand premiumisation.
SATO, a leader in food industry labelling technologies, works with a range of customers to integrate the latest innovations in food labelling design.
Creating customised, bespoke labelling also has to deliver on the production line. SATO keenly understands the needs of the food manufacturing and retailing environment and supplies a range of food safe, efficient labelling technologies to meet the needs of the food sector today and tomorrow.
See SATO Solutions

Can't find what you're looking for?
Contact us